Single Patent Landscape Maps
A Single Patent Landscape Map shows the citation references to and from a single patent.
Patent landscape maps are one element in IPVision's broader Patent Landscape Reports and technology landscape report offerings.
In the following example, the patent landscape is of the dark yellow shaded patent in the center of the left hand image. The right hand image shows the detail from the light yellow shaded area of the patent map.
Interactive Example of Single Patent Landscape Map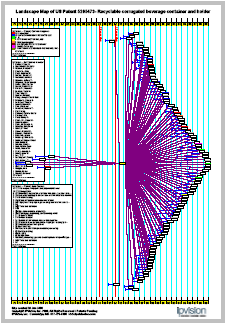 Patent landscape maps are a basic feature of the IPVision Advantage patent analysis platform and provide the basis for patent assessments and services delivered by IPVision staff.

View full size map