IPVision Reports
Focus on Patent Positions, Quality, Strength and Value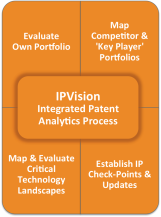 IPVision Reports use IPVision's "building-block" approach of looking at technology, patents, and strategy.
By using a structured approach that leverages a range of proven research methods, analytics, and expert systems, IPVision helps its clients quickly gain key perspectives into the quality and context of patents and patent positions. This fundamental understanding can then be used to support a range of decision-processes and detailed legal / technical evaluation.
A few of IPVision's standard reports include:
IP Portfolio Evaluations and Assessments

Patent and Technology Landscape Analysis

Patent and Patent Portfolio Claims Analytics

IP Due Diligence Reports

IP Portfolio Chain of Title Analysis
IPVision reports and project deliverables include "live" links and access from to the IPVision Advantage™ patent analytics platform for further research and collaboration.