IPVision Advantage™
Advanced Patent Analytics Software
The IPVision Advantage™patent analytics platform provides secure access to advanced patent search, analytics and decision support tools.
Free and premium level access is provided at See-the-Forest.com.
Professional level access is provided under quarterly or annual subscriptions on the IPVision Advantage platform.
Time-limited, premium level patent research and analysis access is included without additional charge in all IPVision Reports and Projects.

IPVision Advantage™ and See-the-Forest leverage patented visualization and analytics technologies borne from work at MIT.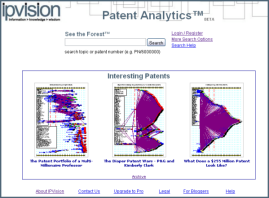 This advanced patent analysis platform addresses the inherent weakness of systems based upon keyword analysis or 'black-box' clustering techniques by placing placing powerful patent analytics, patent visualization, and research control in the hands of users.