Patent Family Maps
Patent Family Maps show legally related patent filings and grants across priority and legal relationships.
Patent Family Maps demonstrate the time axis and legal relationship type between for each family member and can include or exclude international family members.
Sample Patent Family Map of Patent 7,298,851 "Amazon Kindle Litigation"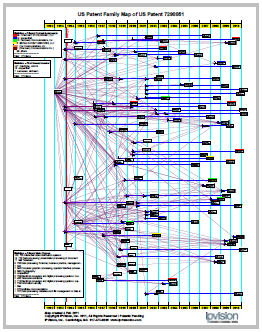 The following Patent Family Map illustrates the multi-year prosecution strategy resulting in U.S. Patent Number 7,298,851 asserted by Discovery Communications against Amazon's Kindle electronic book reader.
Patent family analysis is one element in IPVision's well-regarded assessments of patent quality and context in helping clients developing an understanding of patent portfolios, strategies to address patent risk and opportunities.
Note:
Patent Family Maps are prepared by IPVision staff and loaded into user account(s) through standard reports, project engagements or separate order.