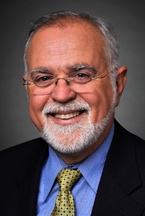 Cambridge, Massachusetts - IPVision, the leading IP strategy and analytics firm created out of efforts at MIT, today announced that Dr. Val Livada has joined the firm's leadership with a focus upon expanding IPVision's support for executive teams, strategic investment, and corporate entrepreneurship.

Joseph Hadzima, Esq., co-founder of IPVision and a Senior Lecturer at the MIT Sloan School of Management, said "we are excited to bring Val's skill-set and decades of experience to IPVision" he continued "Val is a respected leader in the corporate and MIT communities and his experience in helping large companies transform their innovation programs fits cleanly with IPVision's advisory and IP analytics focus of moving from the commodity of IP data and content to information in context, actionable decisions and results."

IP advisory team colleague Alex Butler joined Hadzima in welcoming Val Livada to IPVision. "We consistently find that data and analytics can improve a range of strategic and financial decisions. Val's perspectives on how R&D and corporate growth has evolved will help IPVision's executive clients and their expert advisors place this information into context – and to create sustainable improvements to their operations."

No matter what a company's focus, understanding the IP dynamic within their broader innovation and technology value chain is an executive requirement.
"No different than being able to discuss financial performance, IPVision enables better investment decisions and improved operations" indicated Livada "I look forward to working with the IPVision team, its clients and the broader IP community to help bring IP into the broader management discussion."

Specific area of focus include:
Expanding IPVision's support for corporate executives and board members

Corporate and strategic investment support, screening and diligence

M&A and IP transaction support and diligence

R&D planning and monitoring / working within entrepreneurial fields
IPVision provides a unique blend of highly experienced professionals that can leverage a proven set of IP analytics and technology mapping reports and systems delivered on the IPVision Advantage patent analytics software platform.