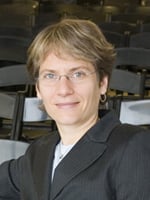 The Lemelson-MIT Awards Committee today announced that Carolyn Bertozzi of the UC-Berkeley Department of Chemistry is the 2010 Winner of the $500,000 Lemelson-MIT Prize.
According to The Lemelson-MIT Program the Prize "recognizes individuals who translate their ideas into inventions and innovations that improve the world in which we live....Dubbed the "Oscar for Inventors," the Lemelson-MIT Prize is awarded to outstanding mid-career inventors, who have developed a patented product or process of significant value to society, which has been adopted for practical use, or has a high probability of being adopted."
Professor Bertozzi's group "studies cell surface interactions that contribute to human health and disease with specific projects in the areas of cancer, inflammation and bacterial infection. We use the techniques of organic synthesis, genetics and biochemistry as tools to study and manipulate complex cellular processes."