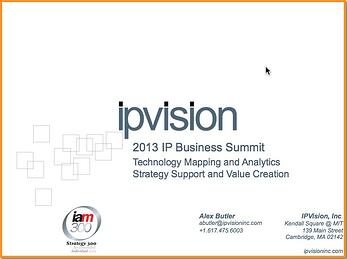 IPVision executive Alex Butler presented at the 2013 IP Business Summit produced by the National IP Taskforce and the University of South Carolina Darla Moore School of Business.
Alex led a discussion focused upon the interplay of strategic and financial perspectives in corporate and investor decisions.
(Click Image to View the Presentation)
The conversation explored several important topics related to how IP related decisions are made:
IP Dimensions of Strategic and Financial Returns
Performance & Analytics
Common Pitfalls
Time Horizons
Real-World Examples
(How Analytics Can Actually Help)
Too often, companies and advisors ask questions that are too narrow and fall short of realizing the full potential value. For example, companies often underestimate the strategic options or focus attention on specific questions while missing the bigger context and perspective of how IP is broadly positioned today or will evolve in their industry over time.
The presentation closes with several specific examples and recommendations on how companies and their advisers can improve their decision-processes, transactions and results. One of the more interesting observations is how value is created at two locations / times:
First
: In making a good decision
Second
: In managing that decision over time to successful results
Patent analytics and technology mapping provide fact-based and data-driven support to reduce the time, effort and cost of both of these two objectives. And, help improve results through better decisions and improved ongoing decisions and implementation efforts.
The accompanying presentation "
Technology Mapping & Analytics in Corporate Strategy and Value Creation
" can be viewed online, downloaded or shared by email. You can also contact
Alex Butler
or other
IPVision
executives to learn more about this topic &
corporate strategy
.