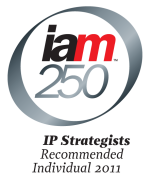 IP Strategy is recognized as an important component that supports corporate strategy. Each year, Intellectual Asset Management (IAM) Magazine identifies and recognizes those individuals who are the best of the best in terms of offering IP owners and executive leadership world-class strategic IP business advice.
In 2011, IPVision leaders Joe Hadzima and Alex Butler were included in this unique publication. IPVision's analytics-driven approach helps innovative companies to improve performance significantly through superior perspectives into strategic considerations and tactical decisions.
"Over the past decade, we have worked with leading companies to help them address complex decisions – whether M&A transactions, corporate planning, market entry decisions, or more routine technology landscape analytics for business/competitive intelligence… we thank IAM for recognizing the value of our efforts and the unique approach that the IPVision provides" commented Joe Hadzima, co-founder of IPVision and Senior Lecturer of the MIT Sloan School of Management.
Colleague, Alex Butler, further noted that clients view IPVision as the leading firm focused upon the use of patent analytics in a business and strategy-oriented discussion. "The investments we have made in platform-enabled patent analytics and consulting provide superior results – whether supporting a deep-dive technical analysis or structuring an ongoing, data-driven corporate planning and decision-making process."
IPVision reports and services provide significant insights into patent portfolio quality, patent portfolio strength and position analysis, and patent strategy/investment indicators -- bridging gaps often found between legal, technical and financial perspectives. Partnered with IPVision's patent claims analytics, executives and experts are able to quickly focus legal and technical analysis in timely, cost-effective manners.
IAM Magazine and the IAM 250 are recognized as an impartial source of reference building upon primary research by IAM editors including multiple source nominations, industry interviews and iterative due diligence discussions.
Additional information on the IP Strategy 250 selection process is available from IAM Magazine.