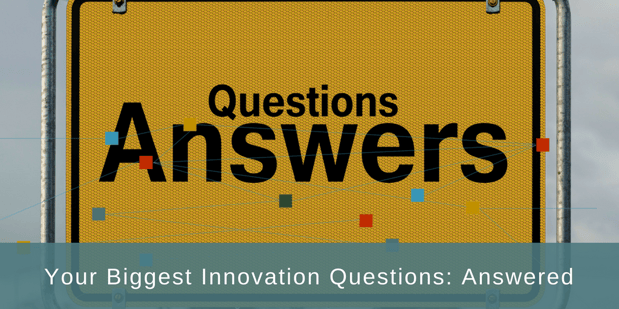 Have you hit a wall when it comes to innovation? Maybe you've created products that you counted on to help you regain your share of the market, only to watch them fall flat with buyers. Or maybe, just maybe, you're at the top of your game and just want to know how you can keep holding on.
Wherever your company is in the innovation process, you have questions. Big, important questions that only IPVision can answer. We really can help you get back on track, stay on track, or, if you've been off so long that you're not really sure where you are, even find the track again.
So here they are, your biggest innovation questions: Answered.
What Should We Build Next?
Whether you're on the top of the mountain or sliding down the hillside, developing your next product is one of the most important things you'll do. It's easy to get caught up in the hype of the latest technology and crank out copycat products just to stay relevant.
We keep you from making the most common mistakes by first studying your core competencies. You should build something that you do well—not run after the rest of the crowd. If you've ever seen a company known for doing one thing really well suddenly release a product that seems to make no sense, then you already have an idea of how confused your buyers would be if you did the same.
Once we know what you do well, we take a look at the technology landscape to see what white space is available for innovation. You don't want to enter production with a product everyone else is already making, do you?
Your core competencies + white space for movement = the perfect next product.
How Can We Avoid Being Ubered?
You know what "ubered" means, right? Remember what happened to the taxi industry when Uber leapt on the scene? Or what happened to Blockbuster when Netflix arrived? What can you do to avoid being disrupted by companies you don't even yet know exist?
Well, we have an answer for that, too. It's all about watching the intellectual property surrounding your industry. Sometimes the patents filed don't seem to have anything to do with your products—until they do. How could Blockbuster have known Netflix was coming, when Netflix only patented a mail delivery system for media?
We're experts and examining the IP landscape and determining how specific patents could affect your industry, even they don't appear to have anything to do with it. Helping you avoid disruption is just what we do.
How Can We See What Competitors Are Doing?
Remember those patent landscapes we were just talking about? We can see everything your competitors are doing—everything. In addition to examining the patents they've filed through the landscape—which includes making connections between all intellectual property and not just the patents in question—we can also provide a list of all patents a particular company has.
Our Advantage dashboard can tell you absolutely everything you need to know, whether you want to know everything your competitor holds or just the patents within a particular category or industry. With that information, you can begin to draw mental maps to where your competitors are going with their next product developments.
How Can We Stay on Top?
If we could help you develop products according to your core competencies and provide information that helped you beat your competitors to the punch every time, wouldn't you stay on top?
We don't just help you get to the top, we continually provide the intellectual property information and patent analysis you need to stay there. With our proprietary tools—iScore, patent landscapes, and the Advantage dashboard—you receive a 360-degree view of everything going on in your industry so that you always know where to go next. And where to go next is always up.
It's all in the data, as you can see, and we know how to find that data and interpret is so that you always have an unfair advantage over your competitors. If you want to learn more, give us a call or schedule a consultation with us. We're excited to help you make your next move.