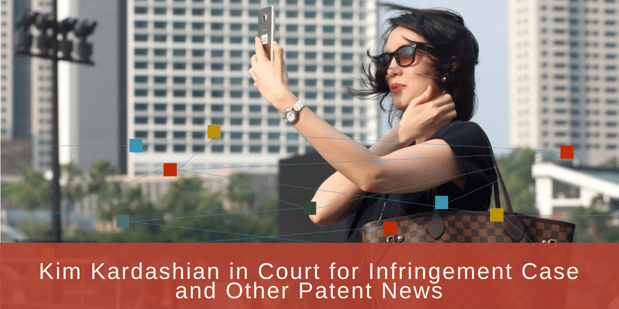 There's something extra interesting about patent infringement cases that involve celebrities, isn't there? This week's patent news kicks off with a story about Kim Kardashian and her selfie smartphone case. Let's dig in.
Snap Light, LLC Says Kardashian Phone Case Infringes on IP
The lighted selfie phone case from LuMee, promoted heavily by reality-queen Kim Kardashian, allegedly infringes upon IP from Snap Light, LLC. This isn't the first time LuMee has gone to court to battle it out over patents with Snap Light, either. It is, however, the first time Kim Kardashian has been a part of the scuffle.
Kardashian and Urban Outfitters have both been named in the suit due to the amount of money they've made promoting and selling the smartphone case. Because of Kardashian's celebrity power, Snap Light says they've had no chance to compete in a market where they already hold the patent.
Jawbone Accused of Running the Clock Down
Yet again, Fitbit and Jawbone are in court fighting over patent infringement. The two fitness trackers have lobbed lawsuits back and forth for almost the entirety of Fitbit's existence. Some patent analysis shows that Jawbone did enter the arena first and holds several patents in the fitness tracker arena.
In this particular case, AliphCom ABC holds Jawbone's assets. After a request was made to push back discovery deadlines, Fitbit determined that the company wanted to stretch the litigation beyond the deadline, effectively running the clock down on the game.
We'll watch to see what happens next.
Merck Seeks Embryo Editing Patent
We're just a breath away from a Gattica world, as Merck is likely to receive a patent for CRISPR technology. This patent will essentially cover the biotech necessary to edit embryos, leading to the possibility for designer babies.
As of now, the ability exists to replace genes, but embryos have yet to take up the edited DNA. Still, we're steps closer than we've ever been, giving us the possibility of a future without genetic defects and diseases.
HP Awarded Patent That Could Cause Serious Headaches for Rivals
Receiving a reminder message on your computer or phone doesn't seem like cutting edge technology, right? For years, we've all made appointment on our calendars and relied on an email or pop-up message to remind us. Even more lately, we let our AI assistant—Siri, Cortana, Alexa—take a note and send us a reminder later.
None of this is surprising, so it stands to reason there's a patent out there that covers the technology. Well, there wasn't until HP received the patent this week. The Electronic Frontier Foundation named it the "stupid patent of the month," not because it's stupid technology. No, they believe it's stupid that HP was able to receive the patent.
While the company has been waiting since it first filed for the patent in 2013, there are several reasons HP shouldn't have received this protection, which covers them until the year 2035. First, the claims in the patent are too broad, referencing use on "generally any computer." Second, the patent doesn't name several pieces of prior art that obviously exist—obvious to anyone who's used a calendar reminder in the last four years, that is.
How Patent News Drives Your Innovation
Keeping up with the latest patent news is why IPVision is always in the best position to help you develop products for commercialization. A firm grasp on the existing technology helps you avoid nasty surprises that lead to infringement litigation. Of course, understanding IP and where you can find white space in the technology landscape isn't all we're good at.
Contact us if you'd like to explore our innovative approach to innovation. Our method benefits companies at all points of the innovation process, from examining your core competencies, to discovering the opportunities for product development, to solving the pains of the customer, to getting your new product on the shelf. Want to know how that works? Give us a call.