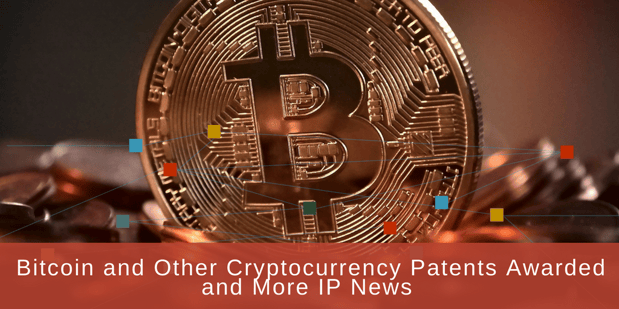 Sometimes it seems as though the same companies are in the news again and again with their patents and lawsuits surrounding those patents. This week is no different, featuring Crocs, Apple, and Nintendo. One big difference is the number of cryptocurrency and blockchain patents filed or awarded recently. We haven't seen much news surrounding this technology, but this week, we know at least three patents were filed or awarded.
Cryptocurrency Patents Coming Fast and Furious
Coinbase, one of the leading cryptocurrency exchanges, has been awarded a new patent for a Bitcoin Security Concept. The patent allows for custodians to use keys to protect and distribute bitcoin during the checkout process. This isn't the first patent awarded to Coinbase, and it's certainly not the last, as the company has nine more applications pending.
The Coinbase patent may not indicate a rise in bitcoin confidence, but a patent from Visa might. The latest patent from the credit card giant gives credence to the cryptocurrency movement. The patent in question involves a digital asset network, which could make B2B payments easier and more secure.
Then, there's Nasdaq, which has filed a patent for a blockchain-based data matching system. The patent will cover a distributed system that stores and shares data from transactions. All the activity around cryptocurrency lately certainly points to big possibilities for future currency developments.
Apple Pencil Patent Hints at Future iPhone Use
Apple proves once more than you can never say never. Their Apple Pencil was met with scoffs upon unveiling, as Steve Jobs had promised never to release technology that required a stylus. However, the potential power of the iPad was something they hadn't considered. Turns out, the pencil is pretty handy for designing on the go.
Now, a new patent suggests that pencil will soon be available for use on iPhones. This may also suggest that the iPhones will support programs that make the pencil worthwhile, such as design and drawing options. Or, they may just want to compete with the Samsung Galaxy Note 8, which now comes with the S Pen stylus. I guess we'll see.
Two Virtual Reality Patents Prove the Tech Is Here to Stay
While the sales for virtual and augmented reality technology have slowed, the creation of new headsets and accessories hasn't. Two patents granted this week show that the developers will continue to create with the hopes the technology will finally stick.
First is Oculus, Facebook's VR brand, which patented a lower-end headset that may be more affordable than other options. This could be the ticket to bringing VR to the masses, but we'll wait and see.
Then there's Microsoft's HoloLens, which will soon release their patented virtual reality gun for shooter games. With no other similar accessories for sale, it's expected that this could be the perfect partner for games from Xbox, HP, Dell, and Lenovo, among others.
Crocs Won't Go Down Without a Fight
We knew when we reported last week that the Crocs design patent had been rejected that the company wouldn't go down without a fight. They as much as said so in reports after the judgment was announced.
While they may not receive the news they want to hear in the end, the patent remains valid and enforceable throughout the appeals process, which protects the company and keeps the money flowing for a little bit longer.
Nintendo Faces Yet Another Infringement Suit
We also reported last week that Nintendo would head to court to protect their Switch consoles from an infringement allegation. This week, they've been presented with a new challenge over their Wii gaming technology.
iLife, based in Texas, claims the motion detection technology used in Wii accessories that was originally developed to detect falls by elderly people. The company has asserted a $144 million claim.
Keeping Up with Patent News
IPVision knows that keeping up with the latest patent news is crucial to innovation. The knowledge of technology and intellectual property being created every day is what drives your innovation.
That's why we offer some of the most innovative tools in the innovation consulting industry. And, of course, we're buy your side through the whole process, from conception, through determining the voice of the customer, all the way to commercialization of your products. If you want to know how that works, give us a call.