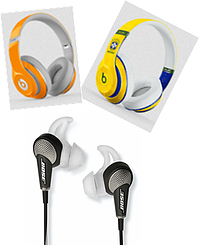 On July 25, 2014, Bose Corporation filed a patent infringement suit against Beats Electronics, which is in the process of being acquired by Apple for $3 billion.
Let's take a look at the complaint and what ammunition each side has in its patent portfolio.
Bose alleges that Beats "Studio®" and "Studio® Wireless" brands active noise reduction headphones infringe Bose patented noise cancellation technology. In the complaint Bose states "For almost 50 years, Bose has made significant investment in the research, development, engineering, and design of proprietary technologies now implemented in its products, such as noise cancelling headphones. Bose's current line of noise cancelling headphones, for example, embodies inventions protected by at least 36 U.S. patents and applications (22 patents and 14 pending applications) ….. Bose's latest noise cancelling headphones model, the QC20, is protected by at least 27 U.S. patents and applications (14 patents and 13 pending applications)". In the complaint Bose asserts that Beat is infringing the following U.S. patents (the "Asserted Patents"):
| | | | |
| --- | --- | --- | --- |
| Patent Number | Title | Patent Issue Date | Number of Patents Citing |
| | Method and apparatus for minimizing latency in digital signal processing systems | 4/6/2004 | 18 |
| | High frequency compensating | 11/8/2011 | 1 |
| | Dynamically configurable ANR signal processing topology | 12/6/2011 | 0 |
| | Dynamically configurable ANR filter block topology | 12/6/2011 | 0 |
| | Digital high frequency phase compensation | 1/1/2013 | 0 |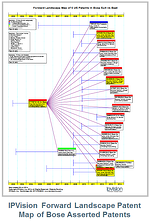 Interestingly the most highly cited patent (the '537 patent) was issued over 10 years ago and has only been cited by 18 patents: 4 of these are the other 4 patents in the suit (yellow shaded) together with 11 other Bose patents. Only 3 non-Bose patents cite the Asserted Patents – one Phlips patent, one Freescale patent and one Wolfson patent. Click on map image to view live IPVision Patent Map.
What Patents Does Bose Have?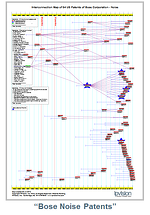 A quick search at See-the-Forest.com finds 1033 U.S. issued patents or published applications currently owned by Bose Corporation. Of these 159 contained the word "noise" in the title, abstract or claims. Of these 84 have been issued as U.S. patents ("Bose Noise Patents"). This IPVision Patent Interconnection Map shows these patents – the 5 Bose Asserted Patents are marked with the Blue Stars.
There are 413 patents that cite the Bose Noise Patents. These are owned by over 200 companies, none of which are Beats: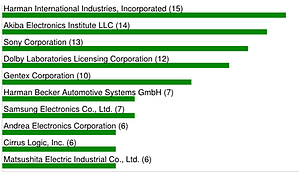 So it appears that:
Bose has more "noise" patents in its arsenal
There are a number of potential targets in the patent landscape
What Patents Does Beats Electronics Have?
A search at See-the-Forest found 53 U.S. patent properties owned by Beats Electronics - 35 issued patents and 18 published applications. These patent properties are cited by 267 other U.S. patents that are owned by over 80 companies. The top 10 owners of these patents are: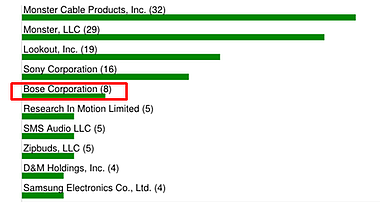 Notice that 8 Bose Corporation patents cite Beats patents – in fact only one Beat patent:
D637998 Audio listening system
The following IPVision Forward Patent Landscape Map shows the 8 Bose patents (red top boxes) citing the Beats Electronics patent (blue top box).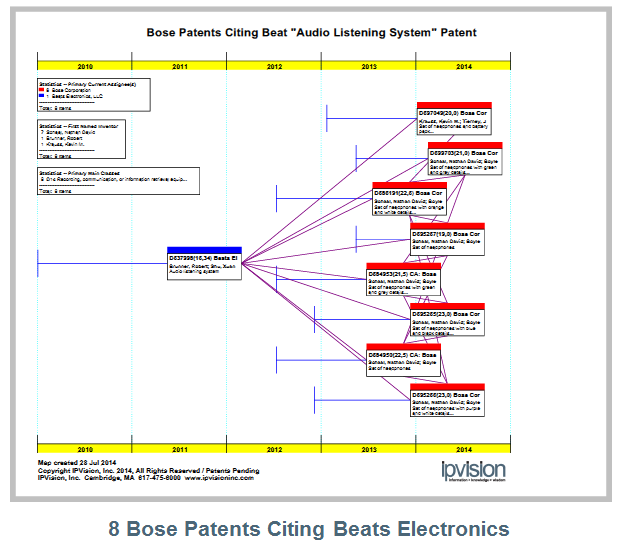 There are 34 patents that cite this Beats patent, of which 7 are other Beats patents
It will be interesting to see if and how Beats Electronics/Apple uses its/their patent portfolio in this case.
Author: Joseph G. Hadzima, Jr. | Senior Lecturer, MIT Sloan School of Management | Co-Founder & President of IPVision, Inc.