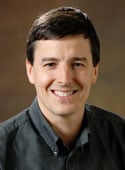 The Lemelson-MIT Awards Committee today announced that
John A. Rogers
of the Department of Material Science and Engineering of the University of Illinois at Urbana-Champaign is the 2011 Winner of the
$500,000 Lemelson-MIT Prize
.
According to The Lemelson-MIT Program the Prize "recognizes individuals who translate their ideas into inventions and innovations that improve the world in which we live....Dubbed the "Oscar for Inventors," the Lemelson-MIT Prize is awarded to outstanding mid-career inventors who have developed a patented product or process of significant value to society, which has been adopted for practical use, or has a high probability of being adopted."
Professor Roger's group seeks "to understand and exploit interesting characteristics of 'soft' materials, such as polymers, liquid crystals, and biological tissues as well as hybrid combinations with unusual classes of micro/nanomaterials, in the form of ribbons, wires, membranes, tubes or related.....[their] current research focuses on soft materials for flexible 'macroelectronic' circuits, nanophotonic structures, microfluidic devices, and microelectromechanical systems. These efforts are highly multidisciplinary, and combine expertise from nearly every traditional field of technical study."
Patent Portfolio Interconnection Map of Rogers Patents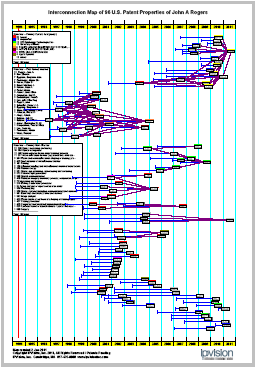 As of June 2011 Professor Rogers was listed as an inventor on
73 issued U.S. patents and 23 published pending U.S. patent applications
.
This IPVision Patent Portfolio Interconnection Map shows the U.S. patents and applications of John Rogers and the citation relationships within the portfolio. Note: Click on the Patent Map Image to View an Interactive Patent Map
The Rogers patents have been cited by 780 other U.S. patents owned by over 200 companies or universities. These include 46 patents owned by SiPix Imaging, 40 owned by Semiconductor Energy Lab and 27 owned by KLA-Tencor.
IPVision Report Provided to Lemelson-MIT Prize Committee
IPVision provided the Lemelson-MIT Prize Committee with patent analysis reports on each of the semi-finalist and finalist nominees for the 2011 Lemelson-MIT Prize. Obtain a free copy of the IPVision Patent Analysis Report on John Rogers.
Author: Joseph G. Hadzima, Jr. | Senior Lecturer, MIT Sloan School of Management | President of IPVision, Inc.