Wall Street Journal recently reported on Federal Reserve data showing that at the end of September 2010 non-financial companies in the U.S. were sitting on $1.93 trillion in cash and other liquid assets representing 7.4% of the companies' total assets—the largest share since 1959.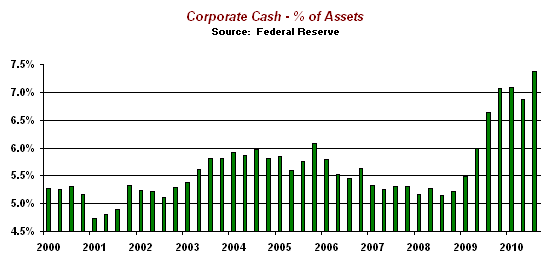 At some point these companies are likely to use this cash horde to purchase growth or technology by acquiring other companies. We have seen this in the Technology Sector in recent months with deals such as EMC's acquisition of Isilon for $2.25 billion and Oracle's acquisition of Art Technology Group for $1B. As the value of companies becomes driven more highly by intangible assets it is appropriate to think about how best to conduct "due diligence" of intangibles, starting with intellectual property.
There are a number of patent due diligence issues that should be covered when investigating the intellectual property of a company to be acquired (the "Target Company").
Due Diligence Team
Typically the review of a Target Company's patents is handed to the lawyers due to the potential complexity of the legal issues involved in prosecuting and enforcing patents. However more than legal analysis is required to achieve the goal of a due diligence investigation of a Target Company, namely the Identification and Allocation of IP-Related Risks. To achieve this goal a Due Diligence Team should be assembled consisting of technical, business and legal experts.
Areas for Due Diligence Review
The high level areas that need to be addressed in Patent Due Diligence include:
Ownership and Control of Target Company Intellectual Property
The Structure of the Proposed Transaction
Identification of Strategic Value of the Target Company's IP
Target (and Acquiring) Company Exposure to Liability from Intellectual Property of Others
Intellectual Property Ownership And Control
What intellectual property assets does the Target Company own and what is its ability to control those assets? To answer these questions the Due Diligence team should take the following steps:
Assemble the Patent Portfolio
Examine the Recorded Ownership of the Portfolio
Review Chain of Title
Consider Licensed Rights
In a future post we will dig into these topics in more detail.
Asset Purchase: Are All Patent Assets Present?
If the acquisition will be structured as an asset purchase then it is particularly important to make sure that the patent property listing is complete. In this case identification of any "missing" patent family members is key.
Other due diligence items for an asset purchase transaction include (1) review of foreign patent properties to ascertain whether assignments to the Target Company were properly drafted, executed and filed and (2) review of license agreements to ascertain whether they are assignable with or without consent of the other parties.
Identify Strategic Value of the Target Company's Patents
An important goal of the acquisition due diligence process is to assess the strategic value of the patent portfolio to the Target Company's business, including the extent of the exclusivity in the marketplace that these assets provide.
Ideally the Target Company has already mapped its patent portfolio to its products and services, showing which parts of the patent portfolio protect what lines of business. Unfortunately many companies have not done this basic analysis and because it can be time consuming it might not be practical to do in the short calendar time in which acquisition due diligence takes place. In a future post we will examine various approaches to address this problem.
Acquired Patent Risk: Exposure to Acquired Patent Infringement Risk
Examining the strategic value of a patent portfolio provides insights into the potential "upside" that the portfolio may provide. Equally, if not more important from a due diligence perspective, is determining the extent to which the Target Company is at risk due to intellectual property rights of third parties – i.e., determining whether there is potential infringement liability in the Target Company's current activities and in the anticipated post-acquisition activities.
In other words, if you purchase a business to scale through your stronger resources, capital or marketing, you may present a "better target" in the eyes of IP owners.
Conducting a full infringement analysis of a Target Company can be a very time consuming activity but it may be warranted in specific circumstances. A more practical approach is for the Acquirer's Due Diligence Team to investigate any "infringement letters" that the Target Company has received.
Arm Yourself With Information in Advance of M&A Activity
If you have been building your cash reserves in advance of expected M&A activity when prices and timing are right, now is the time to prepare by researching and understanding the general intellectual property landscape in the sectors you are or expect to be play in. As mentioned in an earlier post many benefits arise from Moving IP Considerations to the Front End of the M&A Process.