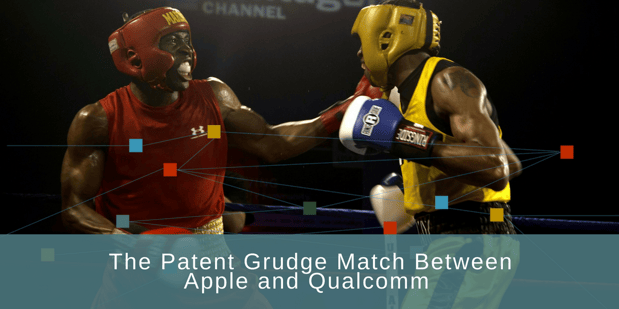 Every once in a while, there's a patent litigation case with the ability to redefine a whole company. This particular case, the grudge match between Qualcomm and Apple, might be such a case. The two companies are engaged in a chess-like battle, where each attempts a strategic move and then waits to see what the counter-attack will be. For those interested in intellectual property, it's a fascinating game to watch.
The stakes are pretty high with this one. If you're just now getting wind of the scuffle, we'll try to break it down for you.
The Biggest Hits
On July 7, Qualcomm requested a Cease and Desist order from the US International Trade Commission and the US District Court for the Southern District of California, which would ban new iPhones from being imported into the United States. The same order would also bar sales of iPhones that have already come into the country.
This move comes in response to Apple's claims on June 20 that Qualcomm operated an illegal business model when they sought to extract patent royalties on every wireless device containing its chips. Apple says that the patents Qualcomm wants to be paid for are invalid, because Qualcomm hasn't charged fair rates. During this filing, Apple pointed to the Supreme Court ruling in May that limits patent owners' ability to control their products after their sold. (You'll remember we mentioned this ruling in one of our news briefings.)
How It All Started
Qualcomm withheld almost $1 billion in rebates because they say Apple worked with regulators. Apple, who said they didn't appreciate the way Qualcomm was conducting business, hit back with a suit to recoup those royalties.
Lawsuits began cropping up in several places, including the US, China, and the UK. Apple then decided to stop paying all royalties to Qualcomm, forcing the latter to slash their revenue estimates from up to $6.1 billion down to $5.6 billion. Of course, their requested sales ban could hit Apple right in the wallet, too.
The Patents in Question
Qualcomm asserts that six particular patents have become the center of the fight, though Apple uses thousands of other patented technologies from Qualcomm. The IP under the microscope, however, could seriously affect the performance of the iPhone. These include:
Patent 8,698,558 – Extends battery life. Antenna uses just enough battery power to transmit according to medium of text, video, or voice.
Patent 8,633,936 – Enables high quality graphics for games while increasing battery life of the device.
Patent 9,608,675 – Mobile device can send high-speed data, like live video.
Patent 8,838,949 – Allows device to connect to the internet quickly after powering on while also reducing memory size.
Patent 9,535,490 – Allows apps to get data to and from the Internet quickly by directing the traffic between app processor and modem.
Patent 8,487,658 – Maximizes device performance and extends battery life by connecting high-voltage and low-voltage circuits with efficient interfaces.
These are the crucial patents in Apple technology that Qualcomm says they aren't receiving adequate payment for. They're willing to let the courts decide if they're right.
However the chips fall, the outcome has the potential to seriously affect consumers. Without Qualcomm technology, the iPhone won't perform as buyers expect. Without the ability to import the iPhone, buyers won't get their treasured phones anyway. We're watching this one with interest.
If you'd like to learn more about how you could protect your intellectual property, license technology for your product lines, or develop innovations that could disrupt your market, give us a call. We're focused on guiding enterprise companies from ideation all the way through commercialization, with IP always at the forefront of everything we do.