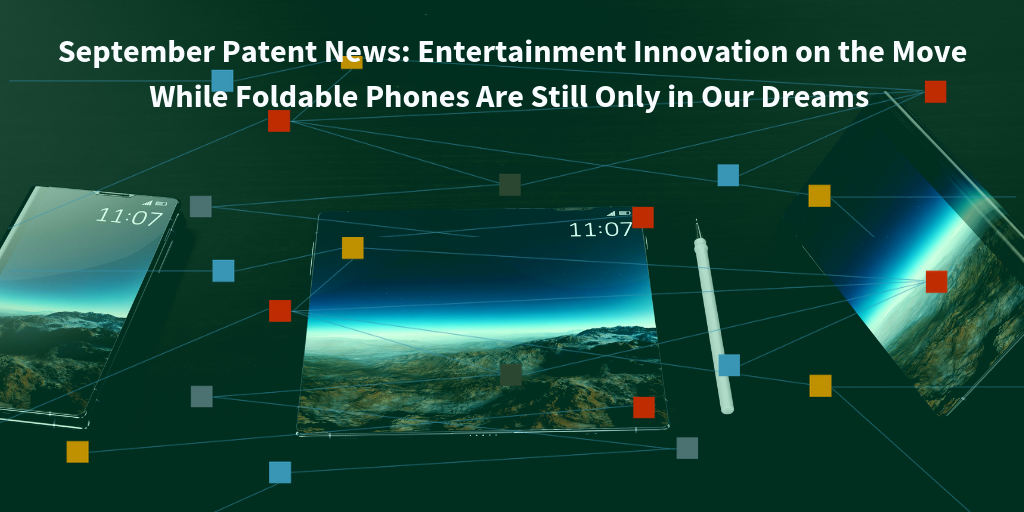 Ford has introduced an idea to bring the entertainment with you in the car while projecting it outside. Some previously patented technology is back for another round, and a Federal Circuit case shows that courts are willing to show flexibility in interpreting the law as it relates to "substantial equivalents."
Tailgate Entertainment Centers Among the Latest Pending Patents from Ford
A recently published patent application from Ford shows that the automotive giant is thinking of other uses for their vehicles. The patent shows a design for a car that includes a projector mounted in the tailgate that will stream video to project onto an object behind the vehicle. (Of course, for safety reasons, the device will only work when the car is in park.) Movies under the stars? Video games while camping? The ultimate in tailgate experience? The possibilities go on as the patent application is currently pending.
This Vehicle-mounted video projector patent application was filed in April 2017 and published in August 2019. No patents yet cite this projector patent because it just became public through the publication. However, Ford Global filed a total of 197 U.S. patent applications in April 2017 (more than 6 per day, on average), of which 107 have issued as U.S. patents. Sixteen of the 197 patent applications have been cited by other issued patents. By looking at the patents that cite these Ford Global patent properties, we can get a glimpse into strategy and the speed of innovation:
The red patents at the top are Ford patents relating to Parking Assist technology.

The next cluster is "noise masking." The Ford patent is cited by patents from GM, Uber, and Honda.
The areas in which Ford filed applications in April 2017 are quite diverse. This is part of an IPVision Class Tree analysis of the Cooperative Patent Classification classes that the 197 applications fall in:
Click the image for a full listing.

For help reading the Class Tree, click here.
Foldable Smartphone on the Way?
Every six months or so, a foldable smartphone will hit the news, whether due to applications or publication of a new patent. This time, it's LG with a competitor for the Galaxy Note 10. The last time a foldable phone hit the news, it was also LG with their Z-fold design and double screens. Now, they're back with another design that folds outwardly until they stack, something like a tri-fold wallet. When folded, the screen is perhaps the size of a credit card—but still useable. Unfolded, the phone serves as something like a tablet.
So, does yet another foldable phone patent mean we'll see them in stores soon? Start placing your bets now, but we're going with "don't hold your breath." It appears there's still a lot of testing and designing necessary before we'll see a real product.
Who is patenting in the foldable smartphone area? A quick search at www.see-the-forest.com found 33 U.S. patents or published patent applications that had the terms "fold*" "screen" and "phone" in the Abstract:

Apple Patents Eye-Tracking Technology After Years of Speculation
In news of the "saw it coming from a mile away" sort, Apple was granted a patent for an advanced eye tracking system this month. The news first hit the radar back in 2017, when Apple was rumored to have acquired SensoMotoric, a company that specialized in eye tracking glasses with possible AR applications.
One eye-tracking technology patent was then granted in 2018, using technology it inherited when acquiring SensoMotoric, proving those rumors correct. The patents kept coming, obviously, as a new one was then published this week. The patent covers a system for determining the endpoint of a subject's gaze. Also included in the patent are an eye tracking unit that determines direction of the subject's gaze, a head tracking unit, and 3D scene structure representation. Guess sometimes rumor has it right.
A quick search at www.see-the-forest.com for the terms "eye" and "track*" in the Abstract and Apple as the Current Assignee yields 22 U.S. patent properties:
Only 9 of these patent properties were filed by Apple in the first instance. The others are by Sensomotoric Instruments Gesellschaft Fur Innovative Sensork MBH.

The Lead Inventor on these patents is Walter Nistico with 12 patents. A search for other patents by Walter Nistico found 6 additional U.S. patent properties that did not contain "eye" and "track#"I in the Abstract. This illustrates the limitations of "keyword only" searching.
Courts to Lean toward Flexibility in Interpretation, as Seen in Nalpropion v. Actavis Case
While we don't normally cover pharmaceutical patent news, this particular case has some interesting potential repercussions for any infringement litigation surrounding intellectual property.
Nalpropion Pharmaceuticals took the drug company Actavis Laboratories to court earlier this year for infringing on their patentfor weight management of overweight adults. Actavis had filed an ANDA (Abbreviated New Drug Application) to create a generic product. The district court found that there was infringement by Actavis, although the company refuted that Nalpropion's patents were not valid due to obviousness and lack of written description. The Federal Circuit, however, upheld that the patents were substantially equivalent and therefore, the infringement ruling would stand. The takeaway from this case? Courts appear to be leaning toward flexibility in interpretation of terms over rigidity in order to make a sensible decision regarding patent infringement.
Does your IP stand the test against substantial equivalents? Does it have adequate written description to protect against lawsuits for obviousness? Are you pursuing the best field for your product? Have your questions answered by a consultant from IPVision.