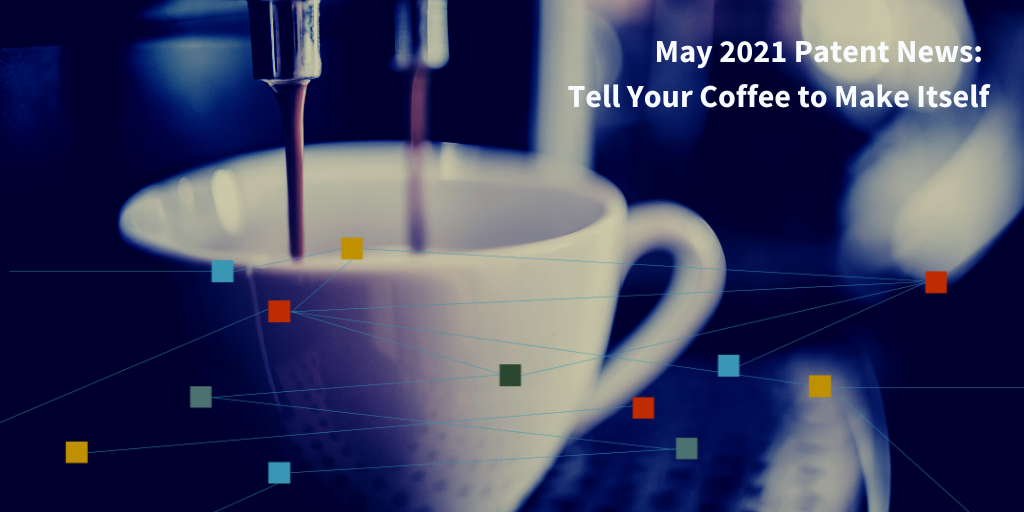 Living on your own gets easier and easier as Alexa gets smarter and smarter. Now that she can make your morning coffee, you may never need a spouse. However, being alone can be tricky when you need emergency health services. An ambulance might not be able to get to you in time, but a drone can! Interested? Read more. Or perhaps even work for the USPTO.
Amazon and Lavazza Work Together to Make a Voice-Controlled Coffee Machine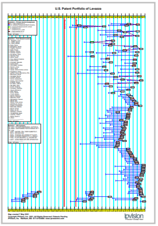 We had to see this one coming. Since we have been able to program our coffee makers for a long time now, clearly the next step was to have the whole process of crafting the perfect espresso automated by our favorite smart assistant. The Italian coffee company teamed up with the online mega-store, Amazon to develop a machine that will customize your coffee making experience in a way that will rival the beverage you would get at a coffee bar. The machine, that syncs with the Amazon Echo, is called Voicy and can provide you a perfect beverage while playing your favorite playlist too. Mornings are going to get just that much better.
What's so hard about making coffee you might ask? Well Lavazza has 127 issued U.S. patents or pending published U.S. patent applications on coffee machines, capsules etc. Check out this IPVision Patent Citation Interconnection Map™ of the Lavazza portfolio. You can click the map for an interactive version.
Defibrillators Deployed by Drones in the Netherlands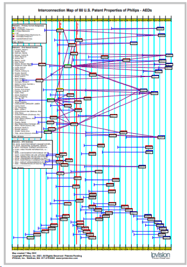 Even when ambulances can drive through red lights, they sometimes are not able to get to the scene of an emergency fast enough. This is where a drone could be helpful, or so thought researchers from the Dutch university, Delft. Because the speed of first response is directly related to the victim's survival, a fully automatic drone was developed to reach those who suffer cardiac arrest in less than a minute. Carrying a defibrillator that can activated with just a touch, this new ambulance drone could increase survival rate by up to 80%.
The delivery of defibrillators by drone is enabled by the significant innovations that have made defibrillators low cost and easy to use. There are 363 U.S. patent properties that have the terms automatic external defibrillator in the Title, Abstract or Claims. Of these 88 are owned by the Dutch company Koninklijke Philips Electronics N.V. or its affiliates. Above is an Interconnection Map of those patents.
To Patent or Not to Patent: The COVID Vaccine
Patents in the healthcare industry can be tricky. Should someone profit from the well-being of a fellow human being? And what does patent ownership do to the sales of a vaccine? These are questions that need to be addressed as a decision is made about whether or not the vaccines for COVID vaccine should be granted private ownership via patent. The discussion has become political in the United States, as debate has arisen about capitalistic rights versus the need to have universal health care right available to everyone. U.S. President Joe Biden announced that he supports waiving intellectual property rights for COVID vaccines in an effort to speed of availability and grant access to more people at home and abroad.
The CEO of Moderna has stated that he didn't "lose a minute of sleep" over US backing of patent waiver, and probably for several reasons. Yes, US patents are considered belongings. And yes, a waiver could create serious financial impact in some cases. However, the production of a vaccine using the Moderna patent would take a significant amount of time, from learning the technology to manufacturing it, and then from clinical trials and product approval.
Apply to be a Patent Examiner at the USPTO
The world is full of inventors. Have you ever stopped to think about how much goes on behind the scenes of the patenting process? If you have, and concluded that patents, trademarks, and protecting intellectual property are important to you, you may want to consider making a career of it. The USPTO is accepting applications for positions including engineers, scientists, and graphic designers to review and examine patent applications. Many entry-level positions are available, and applications are being accepted until June 24th, 2021.
If you would like to leave the patent examination to others while you perfect your own intellectual property, but you still could use a push in the right direction, reach out to IPVision. We'd be glad to give you a hand.