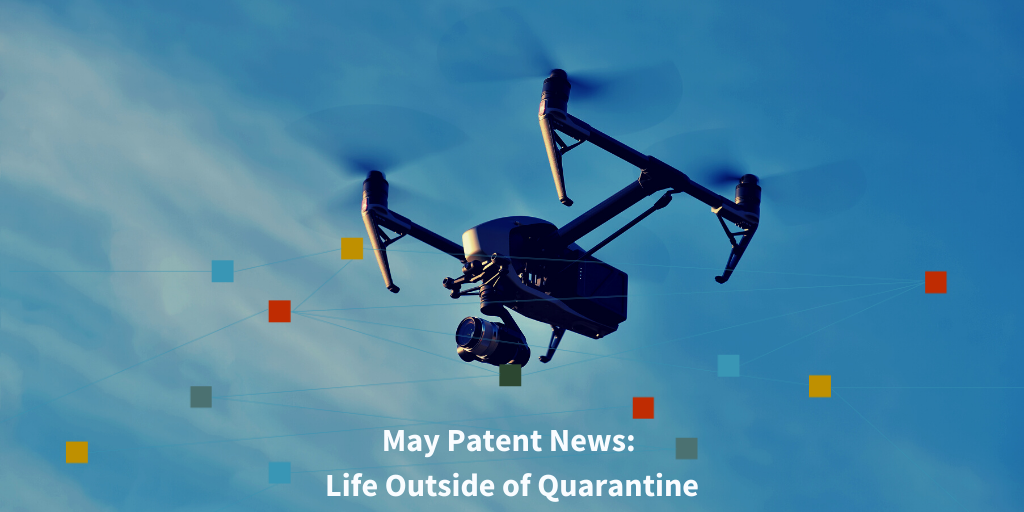 It's no surprise that much of the innovation making the news lately revolves around finding cures, treatments, and/or vaccines for the novel coronavirus. However, some of the IP out there is being created to help us get through our time indoors. Toy and electronic companies are still going strong and robotic deliveries are becoming even more a possibility in the near future. But the most promising patents? Artificial intelligence.
Dbrand's Copycat Skin for Nintendo Switch May Not Be Considered Infringement
Nintendo's Switch, one of the gaming world's most popular personal gaming systems has recently increased even more in popularity since the recent pandemic has people stuck at home looking for something to do. Enter: dbrand. Dbrand specializes in making adhesive skins for electronics such as the Switch. Looking to capitalize on Nintendo's success, dbrand created a skin for the Switch's dock featuring one of Nintendo's popular games, Animal Crossing. While dbrand made a few minor changes, it's in question as to whether or not they have done enough to truly make theirs distinct from Nintendo. Nintendo, at this point, has not elected to pursue legal action at this time.
Drone Delivery Technology from DDC Reaches Next Step by Obtaining US Patent
Canada is one step closer to package delivery via drones. Drone Delivery Canada (DDC) was granted their second patent from the USPTO relating to certain delivery technology as well as the controlled zones for takeoff and landing, called DRONESPOTS. While this exciting news comes from DDC to move the world further into the world of robotic delivery, the next step for the company is to expand access of this technology to other countries by seeking world-wide patents before moving on to the next step in developing the technology. So don't expect packages to fall from the sky in the near future.
There is plenty of patenting activity in the drone world. This is an IPVision Patent Map showing the Drone Delivery U.S. patents and applications (circled in red); 41 patents they cite (backward citations) that are also cited by 100+ Amazon patents. In this interactive map, the Drone Delivery patent properties are marked with green stars.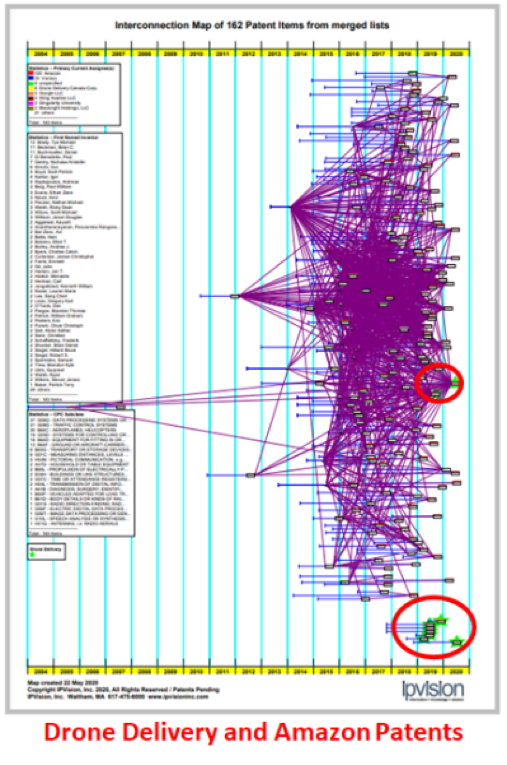 (Click image for interactive map)
Artificial Intelligence Technologies Continue to Gain Momentum for Companies Hoping to Succeed Post-Pandemic
As we reported last month that companies investing in AI (artificial intelligence) are on the rise, we see this month that the trend continues in favor of AI. Specifically, there are four types of such technology that will lead the way in bringing struggling enterprises back to their feet following the pandemic. These four technologies: Augmented Analytics, Blockchain, Empowered Edge, and Smart Spaces, will be disrupting established enterprises to bring the survival of the fittest. AI is being sought out by those investors looking for the next big thing because basically, AI will be able to predict how to reach that next big thing. Continue to watch the market trends as they begin to adopt these technologies more and more.
Of course, there are still new developments in patents relating to Covid-19 as well. For those who are still looking for news about virus-related IP, a reliable source to check for updates comes from Patterson Thuente. And as always, IPVision remains here for you to help guide you through your experience in furthering your own innovation dreams.