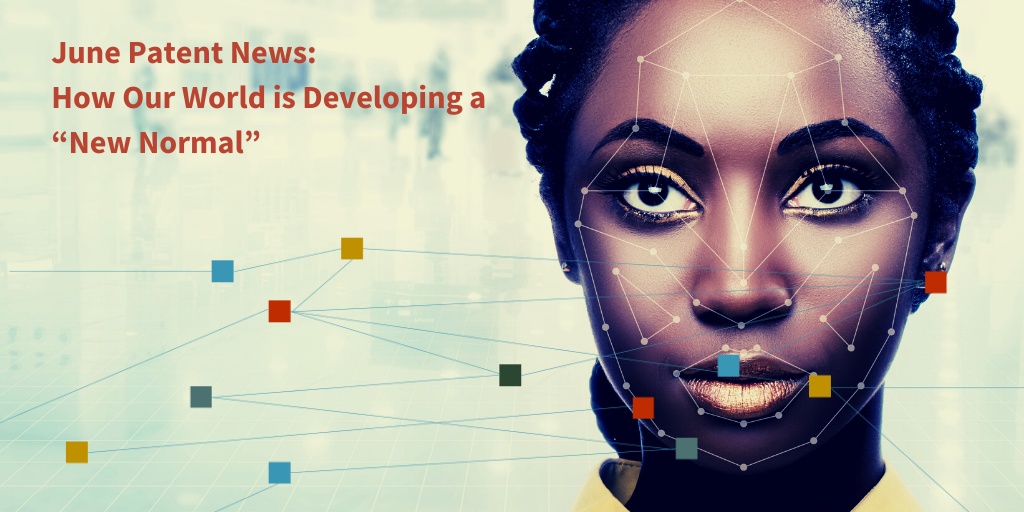 As we eagerly wait for our world to return to normal, we begin to understand that the "normal" we face will not be the same as we knew it before. For as long as we can foresee, we will still need to keep distance from others (Enter: Apple's new app for distance group photos.) And we are becoming more aware of racial inequalities that exist throughout our country. (Enter: Apple and other companies halting facial recognition program sales). See what other companies are doing to move our world along.
Patent from Sony Explains How AI Could One Day Take Over If Opponent Leaves Game
Murder Hornets might not take over the world as some may have thought, but it could be possible that a machine might. Sony, making of PlayStation, has explained in their latest patent application how an AI second player in a game could take over for a first person gamer who decides to quit. The AI would replace the player itself, basing decisions on previous moves and predictions. As always, if assuming that gaming simulates real life, this technology could allow AI-controlled machines to run without support in other uses beyond the game.
This application is a continuation-in-part of a 2017 application that has issued as U.S. Patent 10512846 "Emulating player behavior after player departure". To the right is an IPVision Patent Landscape Map of this patent. Other organizations cited as prior art include the usual suspects: Samsung, IBM and Google.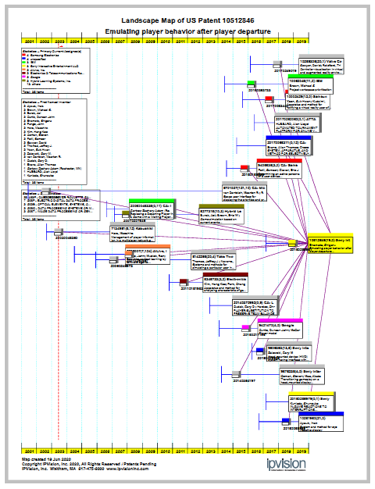 Click map for interactive version
As Sales for Facial Recognition Tech to Police Halts, Some Moves Forward for COVID-19 ID
While Apple, IBM, and other companies offering facial recognition technology announced a moratorium on sales of these programs to law enforcement in the wake of the murder of Geor
ge Floyd, another company is moving forward with face ID with COVID-19 patient tracking in mind. The facial recognition glasses would, according to the patent application, provide recent test results for the individual identified with the Vuzix Blade Smart Glasses.
Of course, there's still a lot to overcome before these glasses could be deployed en masse—like HIPAA laws that protect patients from having any medical information shared without their consent.
Below is an IPVision Patent Portfolio InterconnectionMap of Vizux's 53 U.S. patent properties. This is a crowded space: the Vizux portfolio is cited over 1,506 times by 1,032 other U.S. patents.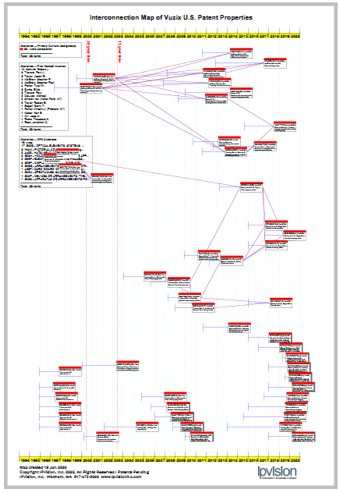 Click map for interactive version
Forward Thinking from Apple Gets Them a Patent for Group Selfies
How do you get a group selfie (us-ie?) when you need to stay six feet away from Grandma? There's no way to fit all the grandkids in the picture. Apple saw the problem and solved it. Their patent, filed in 2018, found a way of incorporating several selfie pictures and combining them to make one picture that includes several people. Although, there is still a possibility that Apple may not actually advance with this patent, it still gives a new meaning to being in this together (even if you're not).
Patent for Critical Event Management Messaging Awarded to Innovation Leader Everbridge
For those who still can't stop watching virus trends and case numbers in the COVID-19 pandemic, Everbridge will keep you happy. The leader in critical event management has been issued its next patent for a new notification structure for all messages in its CEM platform. As Everbridge is reliably one of the first in the know about developments in the COVID-19 crisis, the ability to get a message out to 550 million people at once could make a difference in reaction time.
How do you see the future of our world? What are you doing to get it there? If you need help getting your idea from paper to patent, get in touch with IP Vision. Experts will guide you to make the change in the world you are hoping to see.