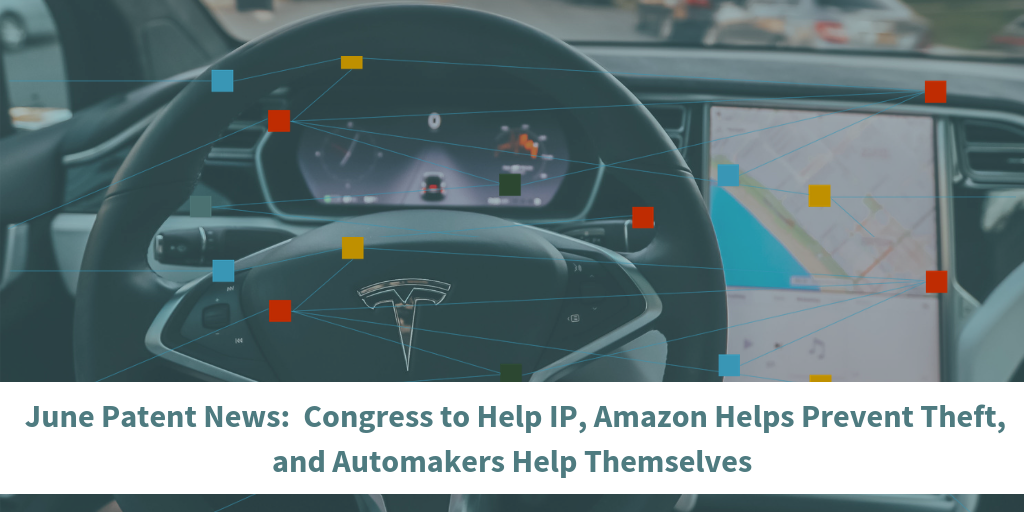 Who would steal Christmas presents from your front porch? Amazon is working on a solution that will give you—and the police—the answer. Also going on in the world: fewer lawsuits and clearer patent legislation. Read on to see the good that is coming to the world of IP.
AI-powered Doorbell Cameras from Amazon Could Put a Halt to Package Theft
With the rise of online shopping has come a steep increase in doorstep package theft. No one has been affected more deeply than Amazon. The online shopping giant has recently applied for their own patent application for a doorbell camera that will alert the police and/or neighbors when a package has been stolen from your front step.
This marks another step in Amazon's interest in facial recognition technology as it combines with their home security brand, Ring, to identify "porch pirates." The patent for the new smart doorbell, which could include exterior audio alerts indicates the serious level to which Amazon is willing to go to thwart crime.
It's also an interesting direction for new technology in the "smart doorbell" space, which didn't have much room to move, thanks to SkyBell's many patents surrounding the technology. One wonders if Amazon was aware of the potential for infringement when purchasing Ring—or if the draw of such a strong brand was enough to tip their purchase decision in Ring's favor over SkyBell.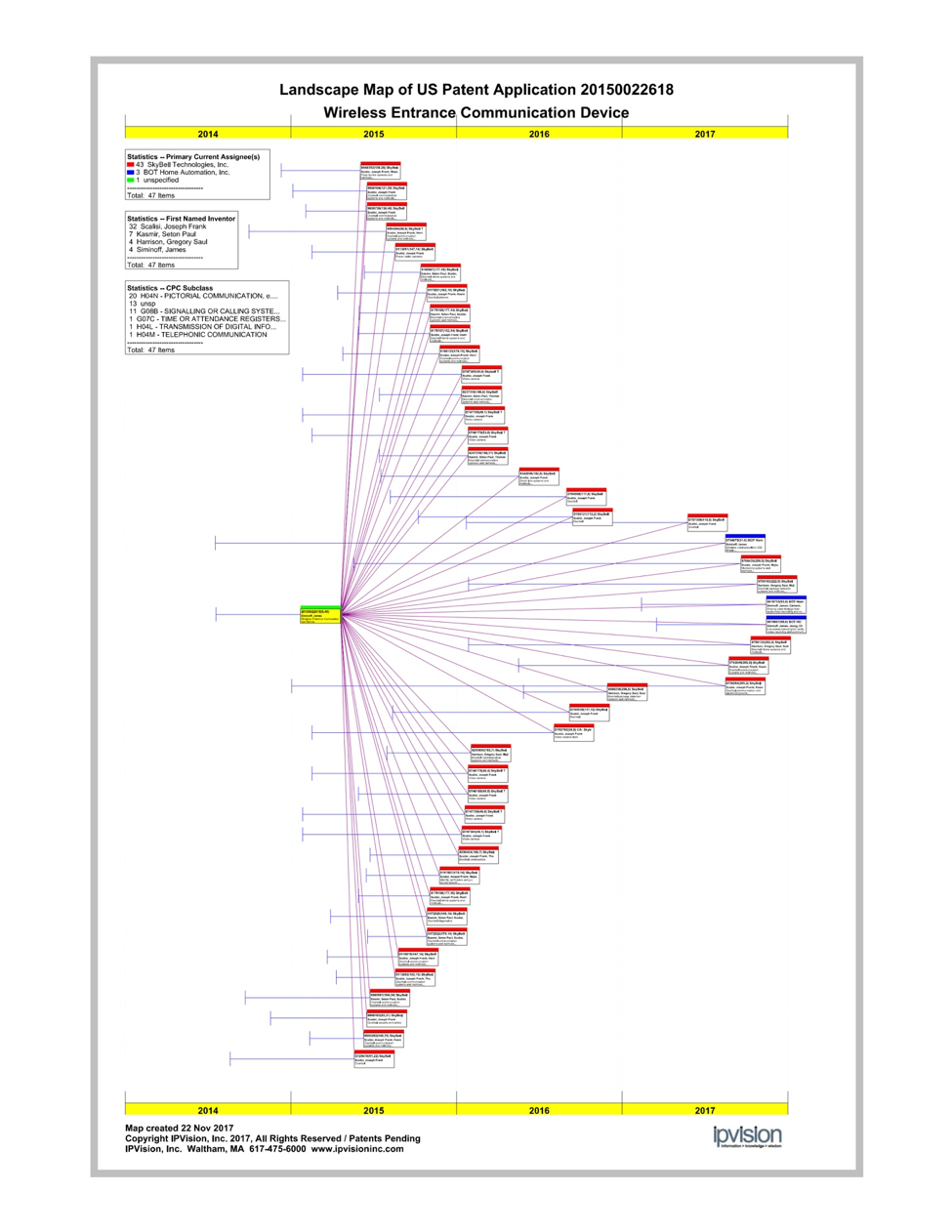 (This is a patent map from 2017, before the purchase of Ring. All those red patents are SkyBell. That's a lot of potential infringement there.)
Here's a map of patents from June 2019. As you can see from the red patents, SkyBell hasn't slowed down on acquiring patents within their space.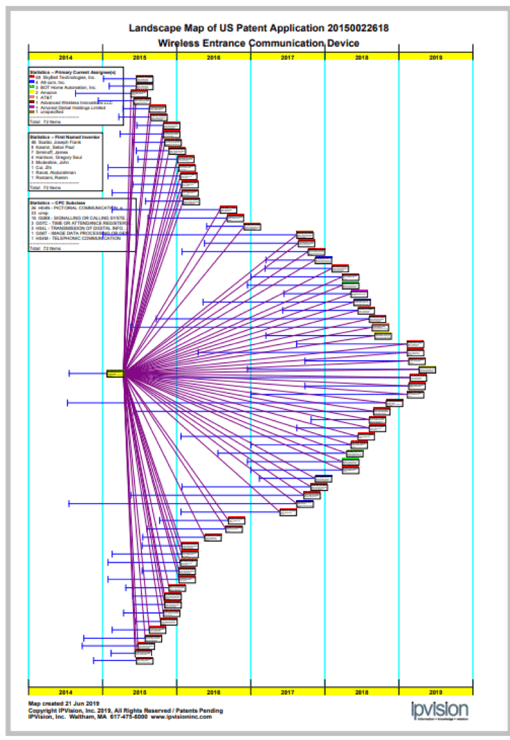 Automakers Putting Patent Wars on Hold
You may recall the recent lawsuit turmoil that sprang up between smartphone and related technology companies. Don't expect to see the same tension between automakers when it comes to protecting their computerization IP. However, the race is still on to see who can improve their business strategy and patent portfolios the best. The new strategy, however, is almost completely opposite of what you see in the smartphone industry.
Because the market has been slow to catch on to such new concepts as autonomous vehicles or electric cars, automakers such as Tesla and Toyota are inviting others to use their technology in good faith without penalty of lawsuit. Such a campaign not only looks good to the public, but also promotes what they are already using. But don't expect the goodwill to last long. Once patent portfolios increase, the automakers may run into the same trouble as the tech giants, and lawsuits may come back into play.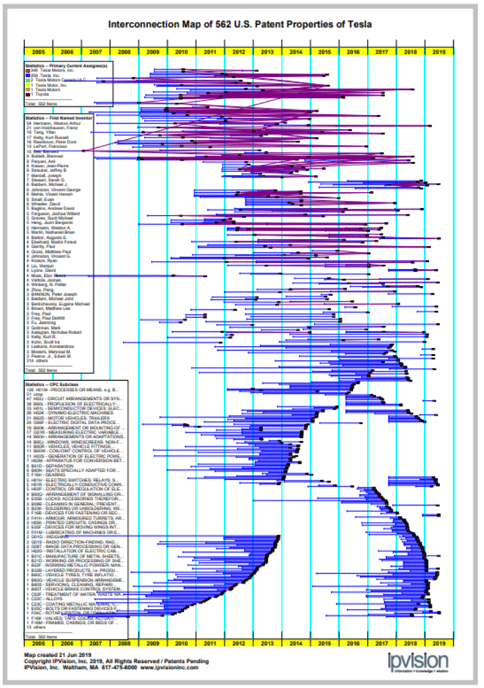 A Recent Study of Patent Trends in Industrial Design Reveals a Great Success Rate
In recent weeks, a series of studies by IP Watchdog in patent trends by industry has brought to light some eye-opening revelations. Analyzing these trends can be helpful when making decisions about filing for patents in the future. One thing that stood out in the data for industrial design was that design and style itself often surpasses utility in preference by consumers.
Customers are looking at products with a sleek design from their favorite brands. And since a design patent only last 15 years (as opposed to the 20-year utility patent), brands need to keep up with the public's changing preferences. This should not present a problem for applicants, as 99% of design patents are granted. Especially with the cost of maintaining design IP significantly lower than that of utility, a design patent is worth pursuing if you are needing a boost to your portfolio.
Proposed Legislation in Congress Could Lead to More Consistent Patent Eligibility
To say finding consistency with patent eligibility recently has been difficult is an understatement. Since 2010, the Supreme Court has had to give opinions based on 35 U.S.C. § 101 four separate times (with two more still pending) and jurisdictions have not been consistent. A Senate Judiciary Subcommittee has been meeting to help create more clarification to the guiding principles of patent eligibility. The goal is to have updated legislation by this summer. The hope is clarification of eligibility in the proposed legislation will lead to an easier path to getting newer IP patented for many who may have been previously frustrated with legal red tape. Here's hoping!
With the patent laws becoming clearer, this may be a great time to move forward with the IP you've been sitting on. Need advice? Give us a call.