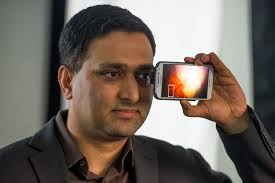 The Lemelson-MIT Awards Committee announced that the 2016 Winner of the $500,000 Lemelson-MIT Prize is
Ramesh Raskar
, Associate Professor of Media Arts and Sciences at the MIT Media Lab.
According to The Lemelson-MIT Program the Prize "recognizes individuals who translate their ideas into inventions and innovations that improve the world in which we live....Dubbed the "Oscar for Inventors," the Lemelson-MIT Prize is awarded to outstanding mid-career inventors who have developed a patented product or process of significant value to society, which has been adopted for practical use, or has a high probability of being adopted.
Dr. Raskar joined the Media Lab from Mitsubishi Electric Research Laboratories in 2008 as head of the Lab's Camera Culture research group. His research interests span the fields of computational photography, inverse problems in imaging, and human-computer interaction. MIT Media Lab's Camera Culture Group focuses on making the invisible visible–inside our bodies, around us, and beyond–for health, work, and connection. The goal is to create an entirely new class of imaging platforms that have an understanding of the world that far exceeds human ability and produce meaningful abstractions that are well within human comprehensibility. The group conducts multi-disciplinary research in modern optics, sensors, illumination, actuators, probes and software processing. This work ranges from creating novel feature-revealing computational cameras and new lightweight medical imaging mechanisms, to facilitating positive social impact via the next billion personalized cameras. See: MIT Technology Review for articles and stories about his work.
Patent Portfolio Interconnection Map of Raskar Patents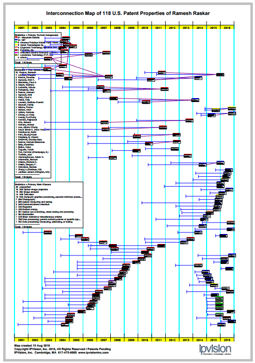 As of August 2016 Professor Raskar was listed as an inventor on 71 issued U.S. patents and 26 published pending U.S. patent applications.

This IPVision Patent Portfolio Interconnection Map shows the U.S. patents and applications of Ramesh Raskar and the citation relationships within the portfolio. Note: Click on the Patent Map Image to View an Interactive Patent Map

The Raskar patents have been cited by 805 other U.S. patents owned by companies such as Microsoft (82 patents), Adobe Systems (53 patents), Seiko Epson (46 patents), Fotonation (38 patents) and Canon (26 patents) among a total of 225 organizations holding patents that cite one or more of Dr. Raskar's U.S. patent properties.
IPVision Report Provided to Lemelson-MIT Prize Committee
IPVision provided the Lemelson-MIT Prize Committee with patent analysis reports on each of the semi-finalist and finalist nominees for the 2016 Lemelson-MIT Prize. Obtain a free copy of the IPVision Patent Analysis Report on Ramesh Raskar.