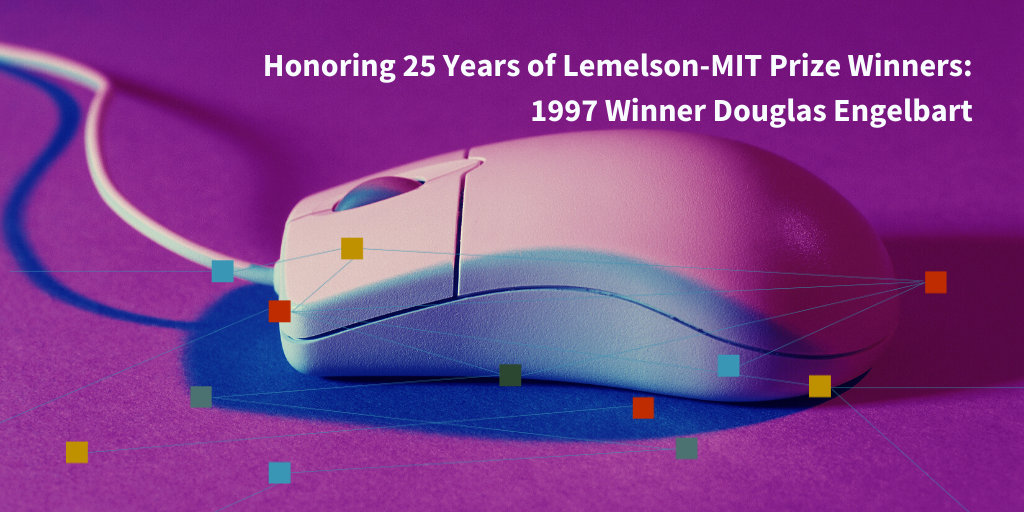 As we continue our series honoring 25 years of Lemelson-MIT Prize winners, we turn next to the winner in 1997: Douglas Engelbart. There is not a single computer user on Earth who hasn't benefitted from Engelbart's contribution to technology. Perhaps you've heard of it—the computer mouse.
About Douglas Engelbart
Born on a farmstead in Oregon in 1925, Engelbart earned his MS and PhD in electrical engineering from the University of California, Berkeley. Engelbart was a true visionary.
In 1970 Engelbart received a patent on the computer mouse. U.S. 3,541,541 was titled "X-Y Position Indicator for a Display System.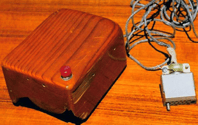 In 1986, Douglas Engelbart introduced the computer mouse, hypermedia and shared screen teleconferencing for the first time by a public demonstration. As one might imagine, this "Mother of All Demos" shook the world. More than 2,000 computer professionals at the Fall Joint Computer Conference in San Francisco watched Engelbart's mouse-controlled cursor manipulate text on the screen.
This demonstration pre-dated the first personal computers and the first word processing software. In 1997, he was awarded the $500,000 Lemelson-MIT Prize.
Engelbart's developments for the personal computer made so many future capabilities possible. His original windows concept inspired Microsoft Windows95, and his hypertext system advanced the World Wide Web. During his lifetime, he held 20 patents and, in addition to the computer mouse, windows, and hypertext systems, his inventions included cross-file editing, groupware, and a host of other technologies that form the basis of interactive, collaborative computing. These pioneering concepts formed the backbone of Engelbart's NLS (oN-Line System), developed at Augmentation Research Center, which he founded and directed at the Stanford Research Institute throughout the 1960s and 1970s.
Some of his many honors and achievements include:
2000: awarded the National Medal of Technology by President Clinton

2001: awarded the British Computer Society's Lovelace Medal
2005: made a Fellow of the Computer History Museum "for advancing the study of human–computer interaction, developing the mouse input device, and for the application of computers to improving organizational efficiency."
2005: honored with the Norbert Wiener Award, which is given annually by Computer Professionals for Social Responsibility
2009: New Media Consortium recognized Engelbart as an NMC Fellow for his lifetime of achievements
2011: inducted into IEEE Intelligent Systems' AI's Hall of Fame. in
2011: received the first honorary Doctor of Engineering and Technology degree from Yale University
Douglas Engelbart passed away on July 2, 2013, at the age of 88, but what a lasting legacy he left behind. For a more complete history see https://www.dougengelbart.org/.
Engelbart's Innovation Impact
While his impact on innovation may be easy enough to determine, considering our familiarity with the many inventions he contributed, you'll find his reach continues today.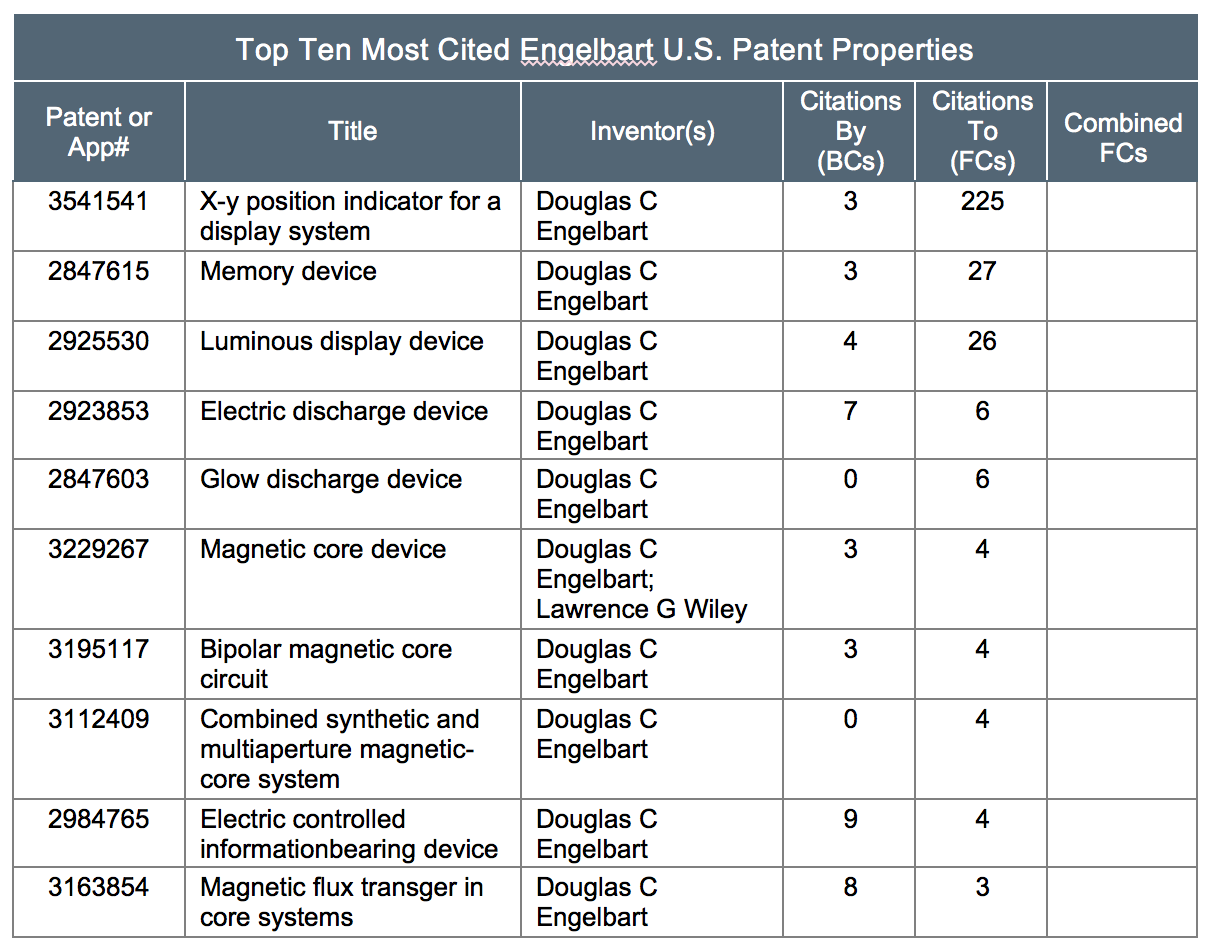 View the Engelbart U.S. Patents on See-The-Forest.com™
Forward Patent Citation Landscape Maps™ of Engelbart 1997 U.S. Patent Properties

As of 1997 - The Year Engelbart Won

As of 2019

View Live IPVision Map™ ►Link to Map

View Live IPVision Map™ ►Link to Map