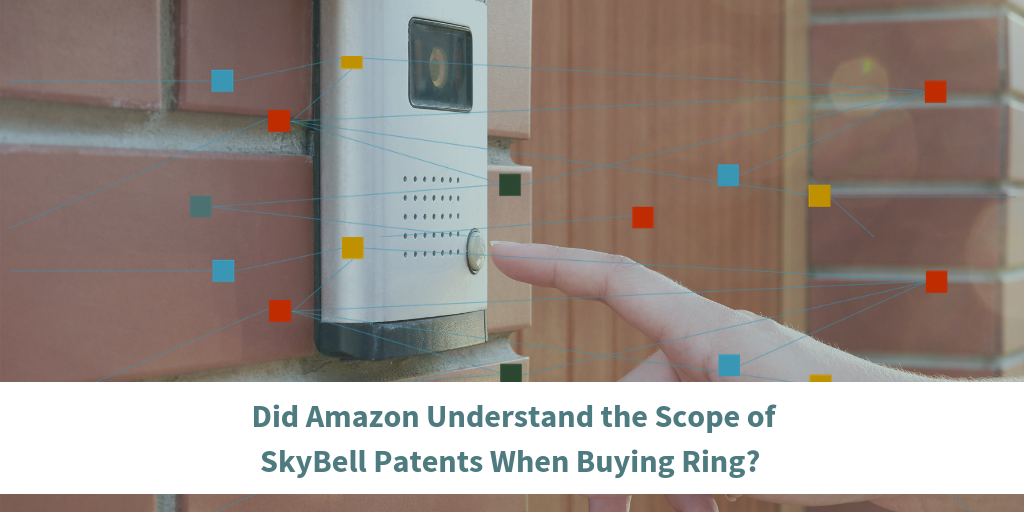 Early in 2018, Amazon made big news once again, this time for its $1 billion purchase of the Ring brand, which included video doorbell apps and equipment, and now also offers various other home security options. Ring made waves with its introduction to the world, its biggest "howdy" taking place on Shark Tank. It was easy to see—at least for consumers—that Ring was going places. Those with insight into intellectual property, however, had some doubts.
The Sharks Say No
Named DoorBot at the time, Ring made an appearance on Shark Tank with an estimated value of $7 million. One by one, each Shark bowed out until one remained: Kevin O'Leary. Mr. Wonderful made an offer that Ring founder Jamie Siminoff refused, and the rejection went down in history as the one deal all Sharks now wish they'd made.
However, with some in-depth questions about patents and intellectual property—Ring only had three—maybe even some questions to Siminoff about how important those patents are to him, the Sharks may have realized they were, indeed, making the right decision. Instead, they have to now live with the realization that Amazon bought up their leftovers for a cool $1 billion.
Amazon Snaps Ring Up
Siminoff didn't have to wallow in disappointment for very long after the Sharks passed. In swooped Amazon with the deal of the century. Those patents that Ring held became part of the Amazon portfolio. They've since added to that portfolio with applications for surveillance as a service, facial recognition, and various other technologies to widen the scope of Ring's capabilities. Their new patents may be enough to set their portfolio apart from other smart doorbells, but SkyBell certainly doesn't think so.
Fairytale Ending?
While Siminoff certainly has his fairytale ending, his knight in shining armor is now facing the dragon. SkyBell has begun to assert its patents in several infringement cases against Ring, and they're not the only ones. In addition to the three patents SkyBell says constitute infringement, home security giant ADT has also filed suit against the company for the Ring Protect home security and automation product. Alarm.com is in the process of suing ADT/Zonoff for the technology ADT/Zonoff is suing Ring for. If Ring emerges from the ADT suit unscathed, they'll likely then face Alarm.com for the same technology.
| | |
| --- | --- |
| US20150022618 Wireless Entrance Communication Device | Skybell Technologies – U.S. Patent Portfolio Citation Interconnection Map |
| | |
| This U.S. patent application by James Siminoff is highly cited by SkyBell patents (red top boxes) | The U.S. patent portfolio of Skybell Technologies – 86 issued patents and 31 published pending applications. Note the highly cross cited cluster of patents – indicative of a strong commercial portfolio. |
| | |
How to Read IPVision Patent Maps
Skybell Technologies Claims Strength
IPVision Claims Benchmarking compared the 146 claims of the 51 non-design patents of Skybell against 102,726 peer patents containing a total of 298,355 independent claims. Claims benchmarking includes patents with the same technology classification group (CPC Subclass) as the portfolio patent and were issued in the same year as the portfolio patent—to get a fuller picture of claims strength. This analysis shows that Skybell's patents are broader and contain fewer structural problems than their peers.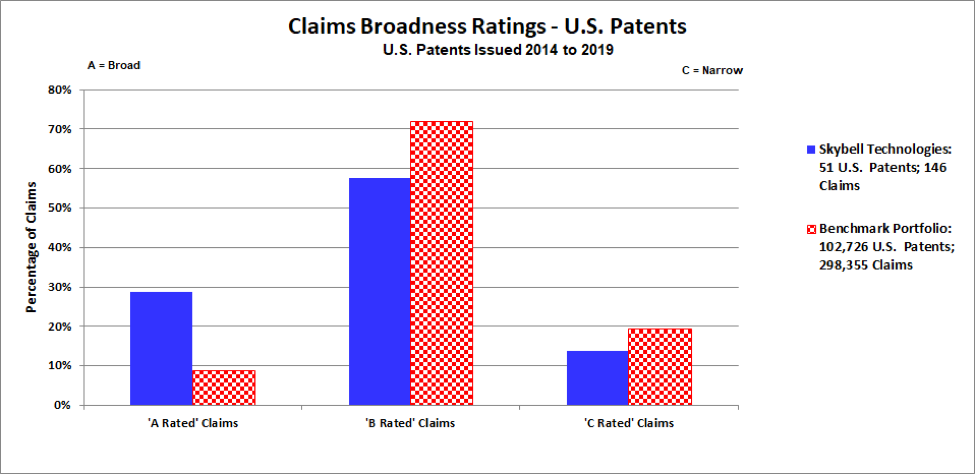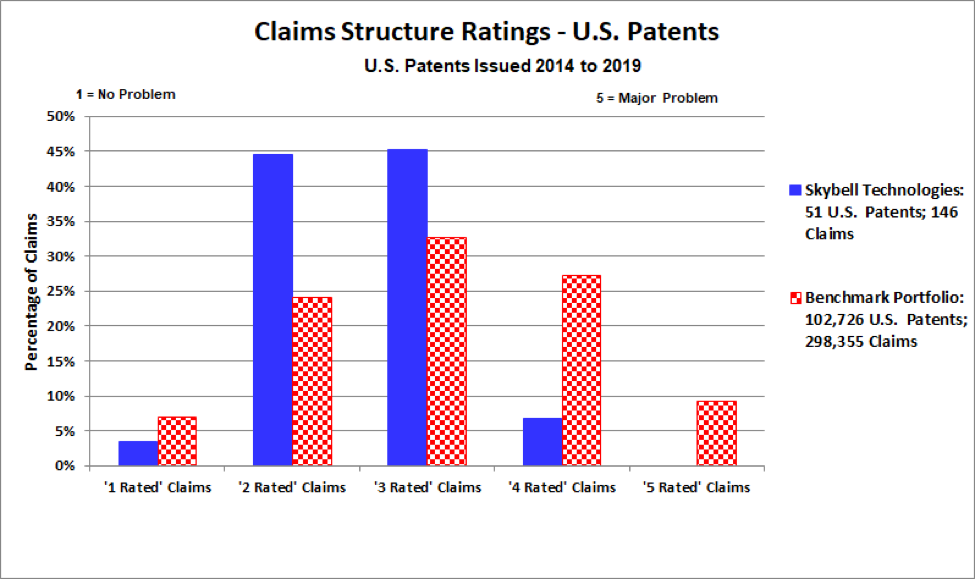 The question now is this: Did Amazon have any idea the IP quagmire they were wading into when they bought Ring? Had they done their due diligence to discover that SkyBell essentially held the patents for the technology they wanted to acquire and simply decided that the Ring brand was stronger and the Amazon pockets deep enough to face down any court battles?
We may never know. One thing's for sure: IPVision could have given them a clear understanding of the IP present with both companies so Amazon would at least have an idea of the size of the dragon they'd need to slay.
If you're planning an acquisition and don't want to end up in a similar situation, give us a call. We can help.