As reported in
TechCrunch
, Dolby Laboratories has sued Research-in-Motion, the maker of the Blackberry, for patent infringement.
According to a Dolby press release "...RIM infringes Dolby patents covering highly efficient digital audio compression technologies which allow manufacturers and consumers to provide and enjoy high quality audio while using extremely limited amounts of transmission and/or storage space for such audio. RIM employs Dolby's patented technologies in its Blackberry smart phones and Playbook tablet devices, without having obtained licenses from Dolby ....[a]ll other major smart phone makers have agreed to license the Dolby technologies which are the subject of this litigation." The lawsuit was filed on June 14, 2011 in the U.S. District Court for the Northern District of California. Sullivan & Cromwell LLP is counsel for Dolby
The Dolby Patents: Acquisition of Coding Technologies AB
The 5 U.S. patents in these lawsuits are actually owned of record by Coding Technologies AB, a Swedish company that was acquired by Dolby Laboratories in November 2007 for US$250 million. Surprisingly as of the date of the lawsuit Coding Technologies owned of record 30 U.S. patents. These 5 patents asserted in the lawsuit are:
| | |
| --- | --- |
| 6978236 | Efficient spectral envelope coding using variable time/frequency resolution and time/frequency switching |
| 7003451 | Apparatus and method applying adaptive spectral whitening in a high-frequency reconstruction coding system |
| 7382886 | Efficient and scalable parametric stereo coding for low bitrate audio coding applications |
| 7469206 | Methods for improving high frequency reconstruction |
| 7590543 | Method for reduction of aliasing introduced by spectral envelope adjustment in real-valued filterbanks |
Patent Landscape Map of Lawsuit Patents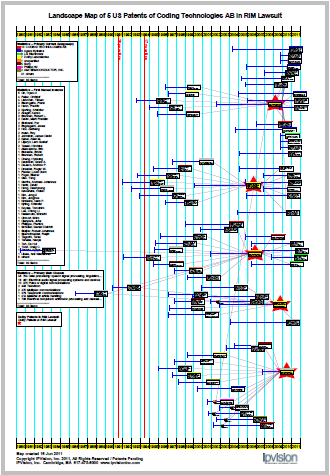 This Patent Landscape Map shows the 5 U.S. Patents that Dolby alleges are infringed.
Note: Click on the Patent Map Image to View an Interactive Patent Landscape Map.
The boxes with the Red Stars are the Dolby patents in this lawsuit.
To the right of each Red Star are the patents that cite the Dolby patents. These include Agere Systems (blue top boxes) and LS Electronics (green top boxes). Most of these patents are so new that they haven't been cited by other patents... it will be interesting to see how this patent landscape develops over time.
Dolby Labs' Patent Ammunition
As mentioned above, only 5 of the 30 Coding Technologies U.S. patents were asserted against RIM. The full Coding Technologies patent portfolio is shown in the following IPVision Patent Portfolio Interconnection Map: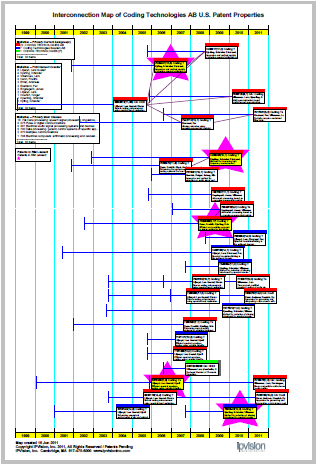 An IPVision Patent Interconnection Map shows the citation relationships between a group of patents - here the Coding Technologies Portfolio.
The patents with the purple stars on them are the 5 patents that have been asserted against Research-in-Motion.
The Coding Technologies Portfolio has been cited by 102 other U.S. patents as of June 2011. The Top Owners of these patents are:
| | |
| --- | --- |
| Owner | #patents |
| Microsoft | 13 |
| LG Electronics | 11 |
| Agere Systems | 8 |
| Dolby Laboratories | 6 |
| Panasonic Corporation | 6 |
| Philips NV | 5 |
| Samsung Electronics | 4 |
| Sony Corporation | 4 |
| Matsushita Electric | 3 |
Are these the next targets for Dolby Laboratories?