On August 12, 2010, Oracle America, Inc. (Oracle) filed suit against Google, Inc. in the Northern District of California claiming that Google's Android operating system infringes 7 "Java" patents owned by Oracle America, a subsidiary of Oracle Corporation. These Java patents are owned by Sun Microsystems which was acquired by Oracle in January 2010.
Oracle's Patent Infringement Filing
According to the Complaint "Google's Android competes with Oracle's Java, acquired with Sun Microsystems, as an operating system software platform for cellular telephones and other mobile devices. The Android operating system software "stack" consists of Java applications running on a Java-based object-oriented application framework, and core libraries running on a "Dalvik" virtual machine (VM) that features just-in-time (JIT) compilation Google actively distributes Android (including without limitation the Dalvik VM and the Android software development kit) and promotes its use by manufacturers of products and applications."
IPVision Patent Map of the Java Patents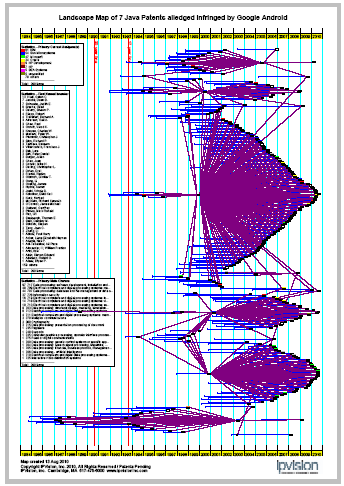 This IPVision Patent Landscape Map shows these 7 Java Patents (center of the "fans"), the 75 patents they cite (Backward Citation Patents) and the 210 patents (Forward Citation Patents) that cite the 7 Java Patents. Microsoft owns 44 Forward Citation Patents and IBM owns 40. View a Live Interactive Version of this Map on the See-the-Forest.com patent analysis website.
The large "fan" is US Patent 5,966,702 "Method and apparatus for pre-processing and packaging class files". It has been cited by 124 other patents, including 32 patents owned by Oracle and 16 owned by Sun Microsystems/Oracle.
The patents are also available for download by right-clicking on them in the patent map.
Learn More About Reading IPVision Patent Maps.
Oracle Has Abundant Patent Ammunition for This Fight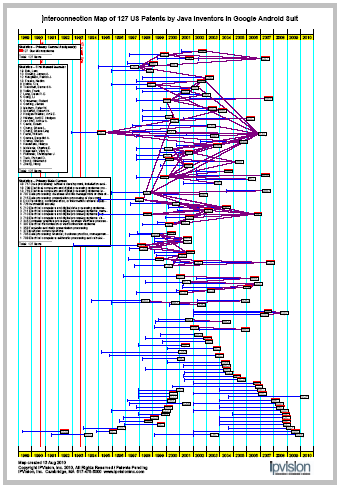 The inventors on the 7 Java Patents have 120 other issued U.S. patents that are owned by Sun Microsystems/Oracle . Although Oracle chose to assert only 7 of the 127 patents, the other 120 may prove to be valuable ammunition in the negotiations around this suit and the emerging smartphone hand held device industry.
This IPVision Patent Interconnection Map shows the 127 issued U.S. Patents by the same inventors that are on the 7 Java Patents in the Google Suit. The 7 Java Patents are highlighted in yellow on this Map.
A Patent Interconnection Map shows the patent citation relationships among a group of patents. Multiple patents citing each other are a "patent citation cluster" and usually represent a strategic patenting process to protect a product or business. On an Interconnection Map a crossing pattern of lines connecting the patent boxes is a visual representation of a citation cluster. Three of the 7 Java Patents are located in the cross-citation cluster of patents at the top of the Map.
This lawsuit also illustrates how companies, such as Google, should proactively monitor changes in their patent landscape. As we have written about before, patent risks change and evolve as companies organically grow their patent positions and, as in this instance, acquire patent rights through M&A.
This perspective is further illustrated by the perspective shared by Silicon Valley litigator Edward Reines in Reuters initial article on the lawsuit: "Sun's corporate philosophy was obviously very different from Oracle's in terms of enforcing the Java patents."