Last week peHUBwire reported on the biggest U.S. IPO of the year, digital whiteboard maker Smart Technologies Inc (SMT). The Calgary, Alberta-based company sold 38.83 million shares for $17 each raising about $660.11 million. Pre-IPO shareholders include funds associated with Apax Partners, chipmaker Intel Corp and IFF Holdings Inc.
Bolstering Your Position Prior to an IPO
The Smart Technologies prospectus contains a number of interesting comments on patents and their relationship to Smart Technologies' business. "Our commercial success depends to a significant degree upon our ability to develop new or improved technologies and products, and to obtain patents or other intellectual property rights or statutory protection for these technologies and products in Canada, the United States and other countries. We seek to patent concepts, components, processes, designs and methods, and other inventions and technologies that we consider to have commercial value or that will likely give us a technological advantage. We own rights in patents and patent applications for technologies relating to interactive whiteboards and other complementary products in Canada, the United States and other countries."
Although Smart Technologies had a reasonable size portfolio:
63 utility patents (46 U.S. and 17 foreign)
315 pending utility patent applications (103 U.S. and 212 foreign)
46 design patents and 59 design patent applications pending
it recognized that its existing patent portfolio was aging and that it needed both new technology and patents to advance its business: "Seven of our patents, which relate to non-orthogonal misalignment, a technological element in our interactive whiteboards, expire in 2011. Some of our products are based on DViT technology, for which we have 46 utility patents issued worldwide, including 31 in the United States. The DViT patents filed by us will begin to expire in 2020." This aging of the portfolio can be seen in the IPVision patent map shown below.
IPVision Patent Map and Patent Portfolio Rating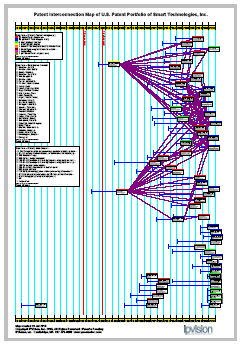 This IPVision Patent Interconnection Map shows the U.S. patents in the Smart Technologies Patent Portfolio, including those recently acquired NextWindow patents (see discussion below). Note: Click on the Patent Map Image to View an Interactive Patent Portfolio Map.
The Smart Technologies portfolio received a 3.9 (out of 5) rating by IPVision using the techniques described in our article "IP in Early Stage Commercial and Investment Success" in IAM Magazine where we showed a strong correlation between IPVision ratings and investment success in venture capital portfolios.
NextWindow Acquisition
Smart Technologies response to this technology and patent portfolio aging was the acquisition of NextWindows: "On April 21, 2010, we acquired all the share capital of NextWindow, which designs and manufactures components for optical touch screens for integration into electronic displays, including PC displays.....We believe that NextWindow's patent portfolio, which includes seven patents and approximately 82 patents pending for optical touch technologies, will complement and strengthen our existing patent portfolio and help us maintain our leadership in technology innovation in this area."
The NextWindow acquisition is a good example of a business driven patent strategy as Smart Technologies acquired key intellectual property to bolster and expand its revenue sources. This allowed NextWindow to assert in its SEC prospectus:
"Portfolio of Innovative Solutions". We have more than 20 years of innovation experience and have independently introduced five major generations of SMART Board interactive whiteboards, released five major versions of our SMART Notebook software and have developed, and acquired a company that has developed, several generations of proprietary optical touch technologies and solutions. In addition to our interactive whiteboards, we also offer a range of hardware, software and content designed to integrate seamlessly with our interactive whiteboards. Our commitment to innovation and technological advancement has resulted in 59 patents issued in the United States, 57 patents issued in other countries and approximately 456 patent applications pending worldwide."
IPVision Merger and Acquisition Support Services
IPVision has helped companies develop and execute on a merger and acquisition strategy to bolster their revenues by extending their technologies and patent positions. Our Patent Analytics and Portfolio Ratings are used to screen acquisition candidates developed through traditional M&A search activities. We have also identified other M&A candidates that can bolster a patent strategy when entering an new technology segment. Contact Us for more information.
Author: Joseph G. Hadzima, Jr. | Senior Lecturer, MIT Sloan School of Management | President of IPVision, Inc.