Fresh from a post about the 9-digit VirnetX Microsoft patent litigation settlement by IPVision executive and Sloan School of Management faculty member Joe Hadzima, VirnetX announced that they are moving from microcap status to inclusion in the broader Russell 3000 index. In addition, VirnetX is issuing a special dividend of $.50 per share for shareholders of record on July 1.
This Russell inclusion moves VirnetX from speculative or litigation pure-play status into several ETF holdings, increased investment exposure and eligibility for certain fund managers. In recent trading, VirnetX's stock climbed well over market performance (image credit: MarketWatch) with VirnetX's returns significantly greater than S&P performance: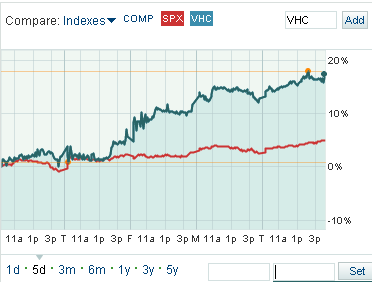 Needless to say, this is a significant shift from VirnetX's recent pre-revenue (low or no-revenue) status to increased and expected future contracted cashflows from Microsoft and other supposed patent infringers.The VirnetX example provides additional support for corporate executives to proactively manage patent risk and to integrate patent analysis into corporate strategy processes.
As shepherds of stakeholder value, management and board members should contemplate the business processes and measurements in place to assure that this critical lever is not overlooked -- whether extracting residual value from a non-revenue producing innovation effort or from mitigating patent risks to and protecting successful commercial enterprises.
Contemplate the core drivers of your strategy, the IP assets supporting them, and ask whether you have the business processes, budgets and insights to properly manage them.