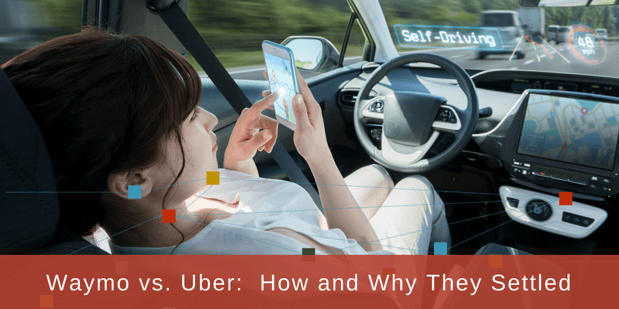 Andrew Levandowski isn't exactly a household name. In fact, you may be scratching your head right now, wondering, "Who the heck is he?!" He is, in fact, the key player in the recent high-profile San Francisco court case in which Waymo (parent company: Alphabet, Inc.) sued Uber for over one billion dollars in damages. Levandowski co-founded the self-driving technology company Otto in January 2016, which was quickly snatched up by Uber in August 2016.
Before that, however, he was an engineer at Waymo, where he helped develop and improve the LiDAR (light detection and ranging) sensors Waymo uses for its self-driving automobiles. The lawsuit alleged that Levandowski took his extensive knowledge of self-driving technology—and some 14,000 company documents—with him when he left Waymo, then offered up Waymo's trade secrets directly to Uber. This, of course, constitutes blatant IP theft.
Trade Secrets
A core complaint of this case revolved around whether Levandowski willfully turned over Waymo's trade secrets to Uber. U.S. District Judge William Alsup was the federal court judge tasked with presiding over this complicated case. Citing previous case law, Alsup appeared to understand the often difficult and tricky process involved when high-profile technology employees change jobs.
"I'm sympathetic to the engineer who's trying to make a living and pay the rent as opposed to the big company that's trying to (sew) up everything," Alsup said during a pretrial hearing. "Is an engineer supposed to get a frontal lobotomy before they go on to the next job? The answer's got to be no."
Alsup took the original list of 120 trade secrets Waymo alleged Uber of misappropriating, and whittled it down to a mere eight. We'll never know what those eight trade secrets were—hence the "secret" part, shhhh!— but they could've been a variety of technological aspects, "including a formula, pattern, complilation, program, device, method, technique, or process" associated with Waymo's self-driving vehicle technology. We created this patent map to show Waymo's patents in relation to questionable patents at Uber: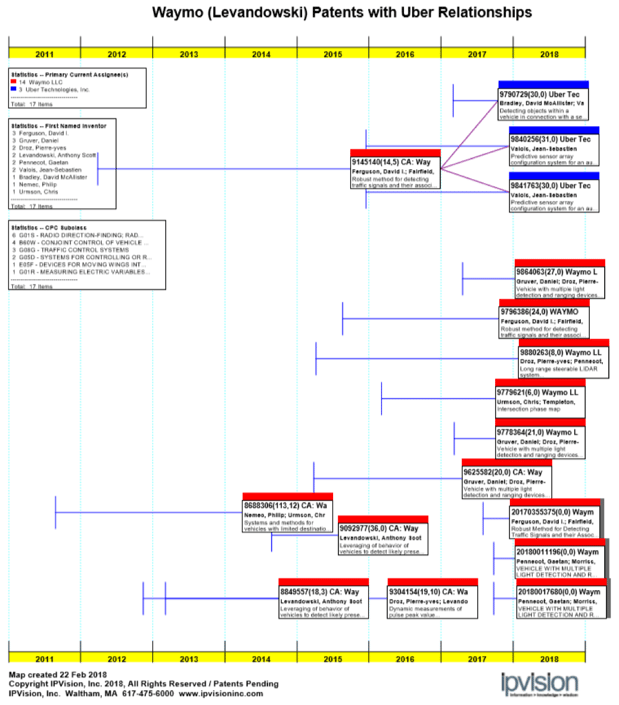 The Settlement
After initially rejecting a $500 million dollar settlement, Waymo surprisingly agreed to a follow-up offer on February 9th, 2018, midway through the actual trial. Waymo received 0.34% of Uber's $72 billion in equity, or roughly $245 million. So, why did Waymo reject the first offer, then settle for much less than a quarter of their originally sought after amount? No one knows for sure. Some, like Justin Hughes, an IP law professor at Loyola Law School Los Angeles, speculate that Waymo wouldn't be able to prove Uber actually used the trade secrets that Levandowski supposedly offered them.
As stated by CNN, "California has strong protections for employees to take their skills and knowledge to different companies, and the bar to prove misappropriation of trade secrets is high." Some speculate that Waymo wanted equity to say invested in Uber's future, rather than cashing out instead. Dara Khosrowshahi, CEO of Uber, had this to say:
"To be clear, while we do not believe that any trade secrets made their way from Waymo to Uber, nor do we believe that Uber has used any of Waymo's proprietary information in its self-driving technology, we are taking steps with Waymo to ensure our Lidar and software represents just our good work."
What now?
These two companies remind us of neighbors who let a simple disagreement between them get blown way out of proportion, then came to their senses when they realized that fighting wasn't good for anyone. With Waymo obtaining this latest percentage of equity in Uber (following a $258 million investment deal in 2013), they will remain partnered with Uber for a long time to come. Waymo seemed to have a sunny outlook following the settlement, stating, "We have always believed competition should be fueled by innovation in the labs and on the roads, and we look forward to bringing fully self-driving cars to the world."
Uber shared a similarly positive outlook, stating, "As we change the way we operate and put integrity at the core of every decision we make, we look forward to the great race to build the future. We believe that race should be fair—and one whose ultimate winners are people, cities and our environment." This case may have been controversial, messy, secretive, and downright confusing, but it would appear (for now, at least) the outcome will lead to the greater good of self-driving technology.
Want to better understand how knowledge of competitors' IP could give you the advantage? Give us a call.